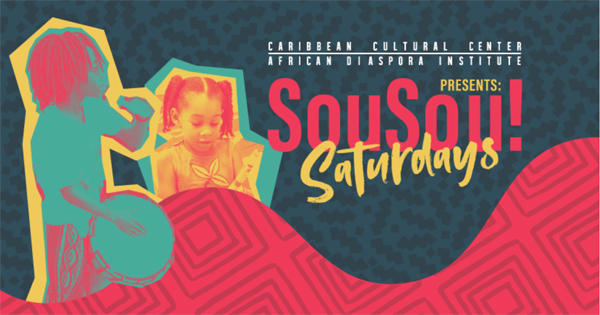 A new season of SouSou! Saturdays kicks off this upcoming February 10th, 2018 presented by the Caribbean Cultural Center African Diaspora Institute (CCCADI) in East Harlem, NYC.
SouSou! Saturdays are a monthly family-oriented art-making, dance, and music workshops held every second Saturday of the month at CCCADI at 120 East 125th Street, NY, NY. The program is inspired by the savings clubs tradition of the African Diaspora with a twist–a culture savings club for the entire family.
Attendees get to enjoy art, dance, music workshops, and many more activities that elevate the history and traditions of the African diaspora. They are ideal for families with kids (4-12).
This season, CCCADI will be joined by Callaloo Kids on residency, a children's media brand that promotes culture literacy, social awareness and puppet theater.
February's Sou Sou, African Heritage SouSou! – Always Africa, will honor African Heritage through puppet theater presentations, art making, watoto African dance & drumming workshops
Upcoming Sou Sou Saturdays:
AFRICAN HERITAGE SOUSOU! | FEBRUARY 10 – ALWAYS AFRICA!
Celebrate African traditions through culturally-inspired art making and movement
SPRING SOUSOU! | MARCH 10 – MAMA EARTH AWAKENS
Make spring pop-up bouquets and enjoy a spring cultural presentation
SANKORE SOUSOU! | APRIL/14 – BRING A BOOK! TAKE A BOOK!
Free children's library and Callaloo Kids theater
MAMI SOUSOU! | MAY 12 – CELEBRATE OUR MOTHERS
It's Mama and me time with a presentation from Callaloo Kids theater
BABA SOUSOU! | JUNE 9 – CELEBRATE OUR FATHERS
It's Baba and me time with a presentation from Callaloo Kids theater
Please visit http://cccadi.org/sousou to preregister. This program is made possible by NYC Department of Cultural Affairs, New York City Council Member Melissa Mark- Viverto [FY18] & New York State Council on the Arts.
Related: CCCADI Presents Trade/itions – The Recap
We invite you to subscribe to the weekly Uptown Love newsletter, like our Facebook page and follow us on Twitter & Instagram or e-mail us at [email protected].