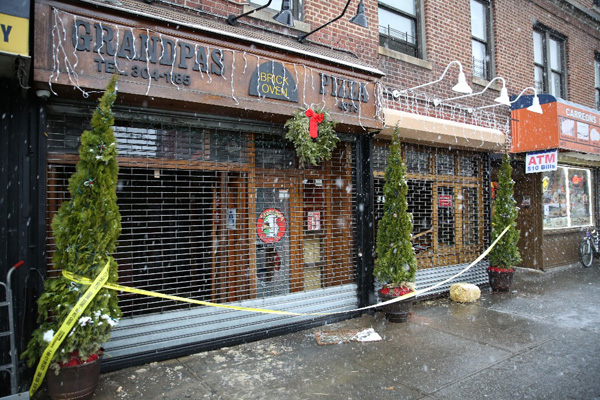 Angel Salazar has been a treasured community member of Inwood for nearly two decades. He began working behind the counter of Grandpa's Brick Oven Pizza when it opened in 2004. He started out as counter staff, and through his tireless effort, honesty, and hard work, Angel worked his way up to store manager in 2005, a very proud moment for him and his family.
He has invested so many years serving the community, that he considers everyone who walks in his doors as family. So when he heard the owners were looking to close down in September 2017, Angel stepped up. Being the leader that he is, on October 11, 2017, Angel and his wife Cristina bought the store and became the proud new owners of Grandpa's Brick Oven Pizza. He saved a neighborhood institution, and continues to passionately serve the community as a family-owned and operated business.
His neighbors have been his passion since day one – it's what keeps him going. And since taking ownership, Angel has worked 14 hour days for the past two months just to see his dreams come true: To successfully own and operate his own business, and provide for his family.
Sadly, in the early morning hours of Friday, December 9th, just two months after purchasing the store, Angel's pizzeria caught fire. The incident tore through the back of the store and destroyed much of the kitchen – shattering his dream of a succesful business he could call his own. Thankfully, the fire was contained, and no one was hurt. But what was left of Angel's dream was far from what he had envisioned for him and his family. There is a long road ahead for Angel and his employees, who are currently out of work but loyal to his leadership. There are countless repairs to be made – much of which will hopefully be covered by insurance. But the setbacks this has caused for him as a new business owner will be incredibly hard to fix. On this day Grandpa's Brick Oven Pizza shuttered it's gates, and closed it's doors for the first time in decades. Leaving Angel and his faithful employees out of work just weeks before the Christmas.
Support Here: Go Fund Me Spotlight: Help Angel Rebuild Grandpa's Pizza
We invite you to subscribe to the weekly Uptown Love newsletter, like our Facebook page and follow us on Twitter & Instagram or e-mail us at UptownCollective@gmail.com.