BY Led Black (@Led_Black)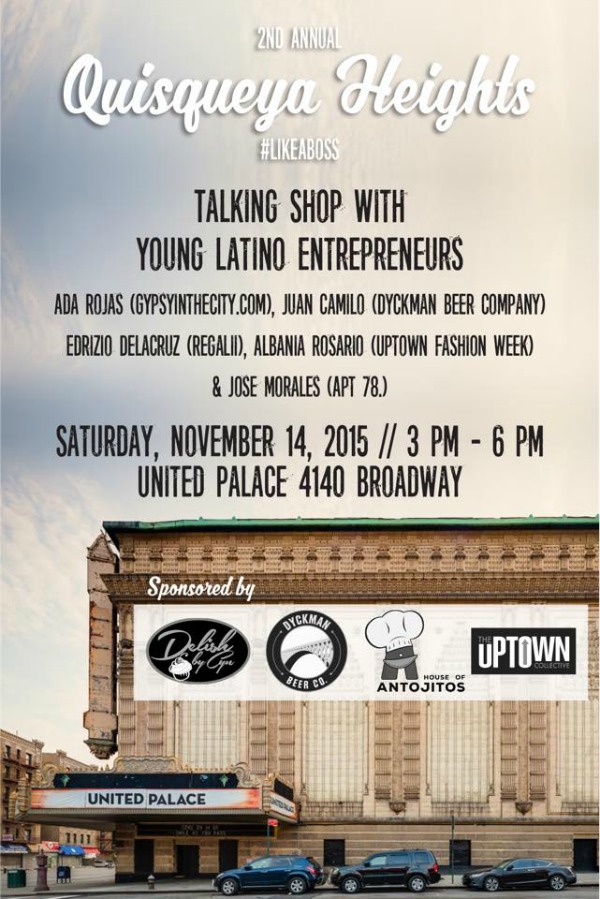 The 2nd Annual Quisqueya Heights Symposium is going down at the venerable United Palace on Saturday, November 14th from 3 pm to 6pm. Aptly titled Like A Boss: Talking Shop With Young Latino Entrepreneurs, the event will hone in on young Uptown entrepreneurs who are doing big things in their respective fields. The overwhelming positive response we received to last year's "Quisqueya Heights: A Dialogue on Dominican Identity in the 21st Century" demonstrated that we need to have more discussions about our community and our crucial role in it. This is about doing the heavy lifting that true community entails. Yours truly will moderate this important panel.

The esteemed panelists are:
• Ada Rojas, Founder and Editor of Gypsyinthecity.com
• Albania Rosario, Founder of Uptown Fashion Week
• Edrizio DelaCruz, Co-Founder of Regalii
• Jose Morales, Owner of Apt 78
• Juan Camilo, Founder of Dyckman Beer Company
The event is free but please RSVP below.
RSVP: http://www.eventbrite.com/e/2nd-annual-quisqueya-heights-symposium-like-a-boss/
ABOUT QUISQUEYA HEIGHTS
The purpose of the Quisqueya Heights Symposium Series is to highlight young professionals, specifically of Dominican descent, who are making a difference Uptown and beyond. By shedding light on young professionals in our community we hope to empower and inspire others to follow their dreams.
Related: Ode To Quisqueya Heights
We invite you to subscribe to the weekly Uptown Love newsletter, like our Facebook page and follow us on Twitter, or e-mail us at [email protected].