Story by Sherry Mazzocchi
Politics is sure-fire fodder for art.
That's true in two new exhibits by Washington Heights artist Andrea Arroyo.
Known for colorful paintings of free-floating goddesses, Arroyo's work is often topical – and political. They are messages about the environment, women's issues, and The Missing—people found dead at border crossings or in vast deserts along the U.S. and Mexico border.
Like those, these two new exhibits are a call to consciousness and action.
Trump's 2016 victory was the genesis of the "Unnatural Election: Artists Speak" exhibit. After the election, Arroyo called for a global response. She asked her friends from all over the world to send her art—and to spread the word.
The works flooded in, and are still coming. "I still receive something new almost every day," she said.
In the six months since the election, the collection has traveled several times. The latest and biggest show is at the Out North Contemporary Art House in Anchorage, Alaska. The exhibit features works from 230 artists from all over the world.
Read more: The canvas of contention | Manhattan Times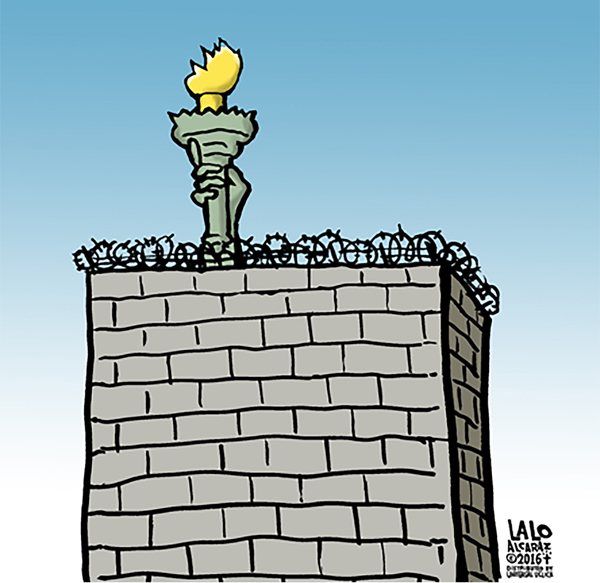 Related:
Go Fund Me Spotlight: Unnatural Election Art Project
Express Purpose | Manhattan Times
Comeback, catharsis, continuance | Manhattan Times
Op-Led: Si Votamos, Ganamos – Awakening the Sleeping Giant That is the Latino Vote
Op-Led: To Hell With Donald Trump, SNL & NBC – Why Latinos Are Outraged By The Donald Trump Phenomenon
We invite you to subscribe to the weekly Uptown Love newsletter, like our Facebook page and follow us on Twitter & Instagram or e-mail us at UptownCollective@gmail.com.