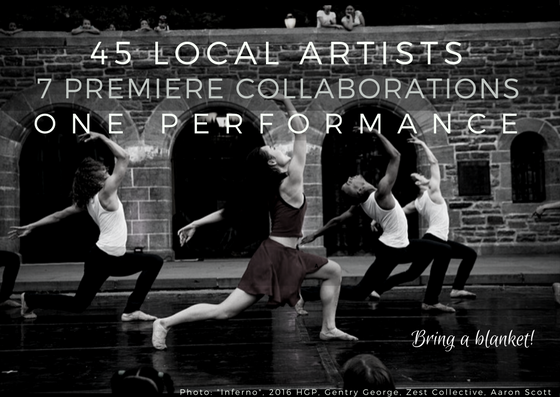 About this project
Higher Ground Festival 2017
We are thrilled to be offering our 3rd Annual Higher Ground Festival's Higher Ground Premieres Performance to be held on Saturday June 24th, 2017 at Anne Loftus Playground! The performance will be free to the public and will showcase 7 new collaborations using 45 artists. This year's program will feature various dance forms including Modern, African, Contemporary and Ballet; in music, a master of the Japanese shakuhachi flute, a harpist, singer/song writer, new musical compositions, and Armenian vocals; as well as, fashion, spoken word, visual art and theatre. We again join the Northern Manhattan Arts Alliance as part of their 15th Annual Uptown Arts Stroll.
What Is The Higher Ground Festival?
Located in the Northern Manhattan neighborhoods of Washington Heights & Inwood, the Higher Ground Festival brings the artists of these neighborhoods together to network and to create interdisciplinary stage-based collaborations performed free to the community at large. HGF allows for local artists to create and present close to home thereby offering high culture presented to the neighborhood by neighbors. Thus nurturing the connections between the artists and their community, as well as growing a strong, united and thriving uptown arts identity. We are community building through art.
Since our inaugural year in 2015, Higher Ground Festival has brought over 100 artists together through our Meet & Greet Series and Performances, and has produced 13 Premiere Collaborations presented free to the Uptown Community.
Each HG collaboration receives a $500 project stipend, donated workspace and non profit resources. HG Festival presents the projects in a full professional-grade production, retaining responsibility of organization and cost, so the artists' only concern is to create and share!
Higher Ground Festival practices community building through art as it is our common ground.
Support Here: Kickstarter Spotlight: 2017 Higher Ground Festival
We invite you to subscribe to the weekly Uptown Love newsletter, like our Facebook page and follow us on Twitter & Instagram or e-mail us at UptownCollective@gmail.com.