Story and photos by Gregg McQueen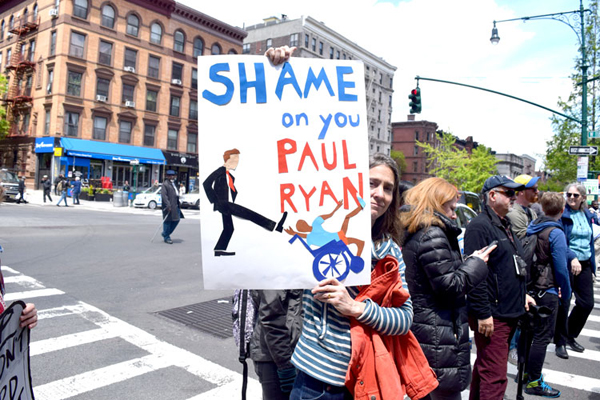 They whaled on the rep from Wisconsin.
Hundreds of protesters showed up to rail against House Speaker Paul Ryan as he visited a Success Academy Charter School in Harlem on Tues., May 9th.
The agitated crowd outside Harlem 1, which serves students in grades kindergarten through fourth, fumed over Republican efforts to repeal Obamacare and make cuts to education. Protesters blasted Ryan's leading role in GOP efforts to enact the proposed American Health Care Act, which threatens to rip health insurance from 24 million Americans and penalize those with pre-existing conditions.
People chanted "Die quick if you get sick!" and "How can you sleep at night? Healthcare is a human right!" as they waited for Ryan to arrive at the 118th Street school. Many were clad in death-themed costumes, suggesting that more Americans would die from illness if Obamacare was replaced.
"It's utter hypocrisy for Ryan to look people in the eye and smile and say this is going to help them," said Marni Halasa, dressed as a skeleton, of the proposed GOP health plan. "Also, they did not even let the Congressional Budget Office determine what the impact will be. This is a sham democracy."
Read more: Protesting Paul | Manhattan Times
Related: UPinion: This tax cut for the rich disguised as a health care bill threatens patients' lives and entire communities | NY Daily News
We invite you to subscribe to the weekly Uptown Love newsletter, like our Facebook page and follow us on Twitter & Instagram or e-mail us at [email protected].