Story by Gregg McQueen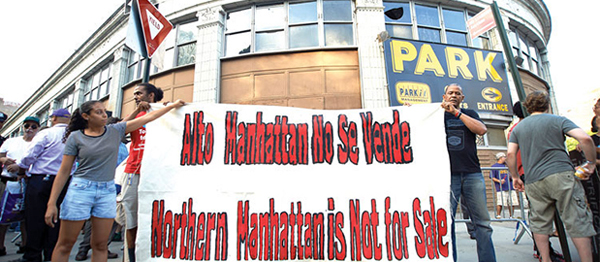 Go bigger.
The city is backing a request by some elected officials to expand the scope of a proposed Inwood rezoning, The Manhattan Times has learned.
In an April 27 letter to City Councilmember Ydanis Rodríguez and Manhattan Borough President Gale Brewer, the New York City Economic Development Corporation (NYCEDC), which is spearheading an Inwood rezoning plan, said the agency will consider a contextual rezoning west of 10th Avenue.
"For too long, this neighborhood has not received the attention or investment that it needs and deserves," wrote NYCEDC head James Patchett, who said the agency "is pleased to pursue a contextual rezoning of Inwood west of 10th Avenue that would complement our efforts to create a holistic framework for development east of 10th Avenue."
Contextual zoning regulates the height and bulk of new buildings, their setback from the street line and width along the street frontage, in attempt to produce buildings that are more consistent with existing neighborhood character, according to the Department of City Planning (DCP).
Patchett wrote that the city is "committed to a plan that requires the creation of affordable housing while also preserving neighborhood jobs and the distinct character of Inwood."
Read more: City backs contextual rezoning for Inwood | Manhattan Times
We invite you to subscribe to the weekly Uptown Love newsletter, like our Facebook page and follow us on Twitter & Instagram or e-mail us at [email protected].