By Luis A. Miranda (@Vegalteno)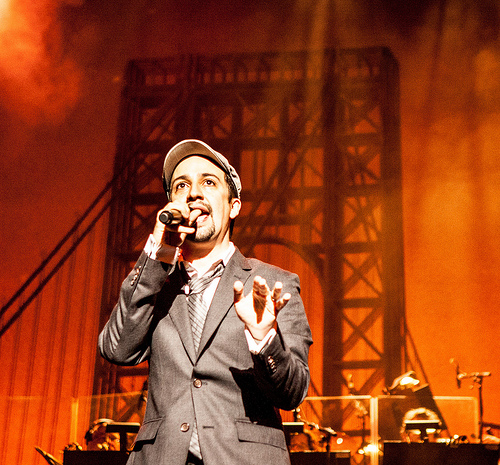 Lin-Manuel was born to delight us with his songs, his impressions, and his performances. My mother always spoke of "Lin-Manuel y sus embelecos" (a term of endearment for "games"). She and my father, may they rest in peace, waited anxiously for summers when Lin-Manuel and his older sister, Lucecita, arrived in Vega Alta, Puerto Rico. Throughout those summer months, Lin-Manuel spent his time filming movies, writing and performing songs, and delighting anyone who would applaud his clowning around.
Nothing has changed in the last 33 years: Lin-Manuel continues to enchant us with his art and his unique interpretation of the world. My wife, Luz, and I, are living as if in a fairy tale. It would seem Disney has taken over our lives and created a vivid script with music and joy – filled with characters who work hard.
My son's triumphs are shared with our family, our friends and all our community. I distinctly remember the euphoria of my tribe when he won his first Tony for In the Heights. Vanessa, Lin-Manuel's wife, Lucecita and her husband Luis, and my wife, waited with baited breath to hear the winner announced. There were 17 Mirandas at Radio City that night, and when his name was read, I heard the resounding cheers of every single one of them. When we got home that night, we were met by flowers left by the neighbors at our front door.
Then came the Grammy. Later, the first Emmy, the ceremony for which Lin-Manuel and I flew to Los Angeles to attend. When his category was called, we clasped hands just as when he was a child and I would help him cross the street. As his and Tom Kitt's names were announced, the two scampered onto the stage like dazed little boys entering a candy store. It was that prize that brought him closer to being one of the 12 members of the EGOT Club (Emmy, Grammy, Oscar and Tony winners).
Read more: El embeleco EGOT | Manhattan Times
Related:
Oscar Nominee & EGOT Contender Lin-Manuel Miranda Staying Put In 'The Heights' | Deadline
Uptown Video: Lin-Manuel Miranda's Game-Changing Year
Uptown Video: Lin-Manuel Spreads Uptown Love On SNL
Say Word: #Ham4Vote – Lin-Manuel Miranda & The Cast Of Hamilton Stand Up For Voting
'Hamilton' Star Lin-Manuel Miranda Is Ready for His Next Coup | Variety
We invite you to subscribe to the weekly Uptown Love newsletter, like our Facebook page and follow us on Twitter & Instagram or e-mail us at [email protected].