Story by Gregg McQueen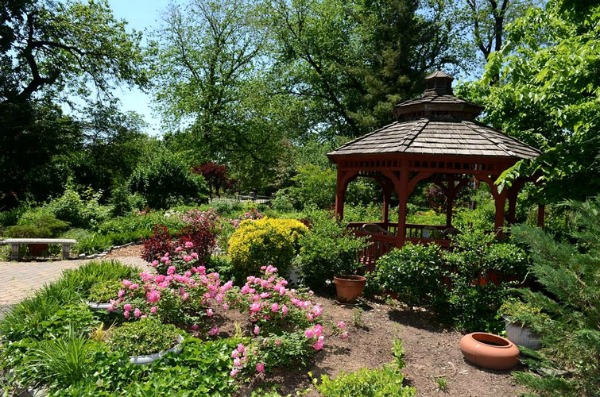 This is one graphic garden.
A beloved community haven is making efforts to increase cultural programming while spotlighting local artists.
From May through October, Bruce's Garden in Inwood hosts "Gallery in the Gazebo," a program that rotates temporary installations from Inwood-based artists at the garden's wooden gazebo.
"The gazebo is now serving as an artist's salon," remarked Nadema Agard, a garden volunteer and visual artist who is curating the series.
Bruce's Garden, situated in Isham Park, honors the memory of Bruce Reynolds, a Port Authority police officer killed on September 11, 2001.
The garden was created out of a trash-filled dirt lot in 1970, and has served as a community gathering place ever since.
Read more: In bloom at Bruce's | Manhattan Times
Related:
Park Portfolio – J Hood Wright Park
Park Portfolio – Fort Tryon Park
Park Portfolio – Highbridge Park
Park Portfolio – Swindler Cove Park
Park Portfolio – Inwood Hill Park
We invite you to subscribe to the weekly Uptown Love newsletter, like our Facebook page and follow us on Twitter & Instagram or e-mail us at UptownCollective@gmail.com.