BY Juan Ignacio Rosa (@JuanRosa_NYC)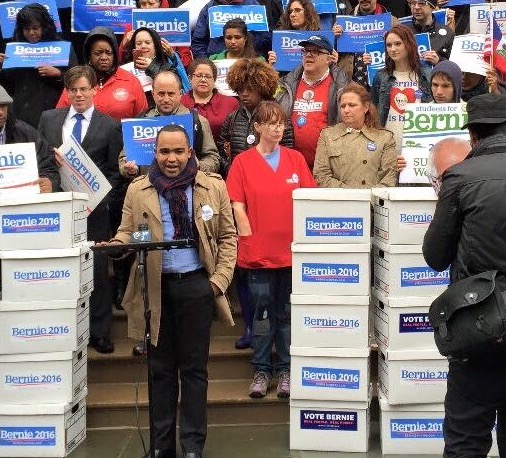 Like many Democratic voters my age and younger, I #FeelTheBern. We perceive in Sen. Bernie Sanders' campaign for the Democratic Party's presidential nomination the best hope for addressing the structural inequalities that are robbing our generation of the economic security essential to achieving the ever-elusive American Dream. To be clear, support for Sen. Sanders' campaign is not exclusive to millennials and other young voters, real progressives of all ages are supporting him as well. But, we are told by denizens of the Democratic Party establishment that we are wasting our time and should fall in line with the inevitable candidate. I hope to dispel three myths that the establishment is using against the Sanders campaign in hopes that you may also #FeelTheBern.
First, they say that Sanders could never win the general election against any potential Republican nominee. This is categorically false, in large part because the Electoral College map does not show any signs of change for the 2016 presidential election. Any Democrat is poised to win the same states President Obama won in 2008 and 2012. The battleground states remain the same: Florida, Ohio, Pennsylvania, Virginia and Colorado. Sanders can be as competitive as Hillary Clinton against any Republican candidate in those states. Moreover, these are states in which Sanders' message of economic populism can carry the day. Clinton would have a clear advantage to win Florida, but the Republicans' anti-immigration message could make that state a slam-dunk for any Democrat. Also, in every poll matching the Democratic candidates against the Republican candidates, Sanders does as well as — and in many cases better than — Hillary Clinton.
Second, they say that even if he could win against a Republican candidate, Sanders would not be able to govern in an era of divided government and deep ideological division. Of course, this line of logic assumes that Hillary Clinton would automatically be able to work well with a Republican-led Congress. Close your eyes and think back to the last Clinton presidency and you will remember that it was an era of ideological and tactical warfare between the White House and Congress, so much so that there was a government shutdown and an attempt to impeach the president. Keep looking back and you are reminded of the time the Republican Congress railed against, and ultimately defeated, President Clinton's healthcare reform plan — better known as HillaryCare. History shows that the establishment's assumption that Hillary Clinton would work best with Congress is erroneous and deceitful. The establishment has also sought to paint Sanders as an exotic political neophyte, glossing over the fact that Sanders was a mayor for eight years, was a congressman for sixteen years and has been a United States Senator going on nine years. The man is clearly not a political neophyte and has as good a chance to work with Congress to get things done as Hillary Clinton does, if not better, based on Hillary Clinton's past experience dealing with Congress from the White House.
Third, they say that Bernie Sanders does not attract support from people of color. Sanders' agenda would do far more to improve the living standards and life chances of people of color than any other 2016 presidential candidate. Take the New York State Democratic Party as an example. The only four major elected officials to break with the official stance are men of color: State Sens. Bill Perkins and James Sanders, Assemblyman Luis Sepulveda and City Councilman Rafael Espinal. (Former State Sen. Tom Duane, the first openly gay member of the New York State Legislature, and before that, the New York City Council, is Caucasian and has also endorsed Sanders). Sanders has received the support of the former president of the NAACP, Benjamin Jealous, of actor Danny Glover and of actor and civil rights activist Harry Belafonte. And as an openly gay Dominican-American man I am also supporting Sanders. Once people of color begin to learn more about President Clinton's role in creating the crisis of incarceration in communities of color and Hillary Clinton's marked acquiescence on that issue, they will begin to take a closer look at their alternatives. The same is true of President Clinton's Reaganesque welfare reform and Hillary's silence on it.
We Uptowners will get a chance to vote in the Democratic primary on Tuesday, April 19. I hope the myths I debunked above do not keep you from embracing the change we need in America, from embracing the opportunity to create a future we can believe in. As an openly gay man, I relate to women's centuries-long fight for equality and would delight in having a woman President of the United States, but not at the expense of real change for working- and middle-class families in this country. I look at the current bench of Democratic women in elected office and am filled with hope about the glass-ceiling-shattering prospects of women like United States Sens. Kirsten Gillibrand and Amy Klobuchar and California Attorney General Kamala Harris. The history-making train does not end at Hillary Rodham Clinton, and we have a once in a generation opportunity to take on economic inequality and corporate greed. That opportunity is called Bernie Sanders.
The writer is a local community activist and President of the Barack Obama Democratic Club of Upper Manhattan.
Related:
Politicking With The People: A Q&A With Juan Ignacio Rosa
Op-Ed: Marriage Equality Is A Triumph For All New Yorkers
We invite you to subscribe to the weekly Uptown Love newsletter, like our Facebook page and follow us on Twitter & Instagram or e-mail us at [email protected].