Listen up folks. This is an important one. Tomorrow there will be a public hearing at the Washington Heights YM & YWHA (54 Nagle Ave) at 7 pm for the proposed rezoning for the site located at 4650 Broadway. This massive project will completely alter the landscape of the neighborhood. What are your thoughts, concerns and questions regarding this collossal undertaking. Tomorrow is your chance to voice your concerns.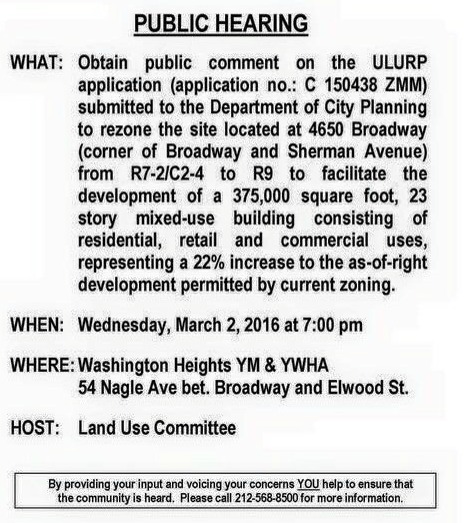 Related:
First Look: 4650 Broadway, 23-Story Apartment Building in Washington Heights | NY YIMBY
A Harlem Townhouse, a Sentimental Journey | NY Times
Who Lives There – A Face in the Crowd | NY Times
Uptown Real Estate: The Pumpkin House Is On The Market
Washington Heights Brownstone Hits the Market For $2.5M | Curbed NY
We invite you to subscribe to the weekly Uptown Love newsletter, like our Facebook page and follow us on Twitter, or e-mail us at [email protected].