Story and photos by Mónica Barnkow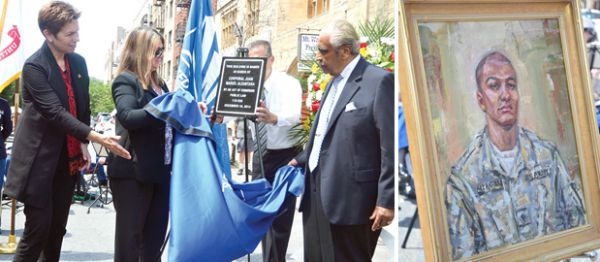 The day the two planes crashed into the Twin Towers, Juan Mariel Alcántara Peña made his decision.
He would join the United States Army.
Alcántara had moved to Washington Heights with his family from the Dominican Republic when he was just 5 years old.
rowing up in Northern Manhattan, he served as a mentor to friends and peers.
"Everywhere my brother went, he would always smile," recalled Fredelinda Peña, Alcántara's sister.
"Such a spirit, soul, energy allowed him to be part of an ongoing battle to fight."
Though Alcántara had not yet become a U.S. citizen, the terrorist acts of September 11th moved him to enlist at 19.
Three years later, he was on active duty in Iraq when a bomb detonated and killed him and two fellow servicemen.
He was 22.
This past December 16th, 2014, President Barack Obama signed into law the designation of the Inwood Post Office in honor of Corporal Juan Mariel Alcántara. A fellow veteran, Congressman Charles Rangel sponsored the legislation, and with the aid of Senators Charles Schumer and Kirsten Gillibrand, the bill unanimously passed in both chambers.
Read more: Stamp of approval | Manhattan Times
Related:
Time Travel Tuesdays: Becoming an American Citizen, the Hardest Way | NY Times
Manhattan post office will honor soldier killed in Iraq who never got to meet daughter | NY Daily News
We invite you to subscribe to the weekly Uptown Love newsletter, like our Facebook page and follow us on Twitter, or e-mail us at [email protected].