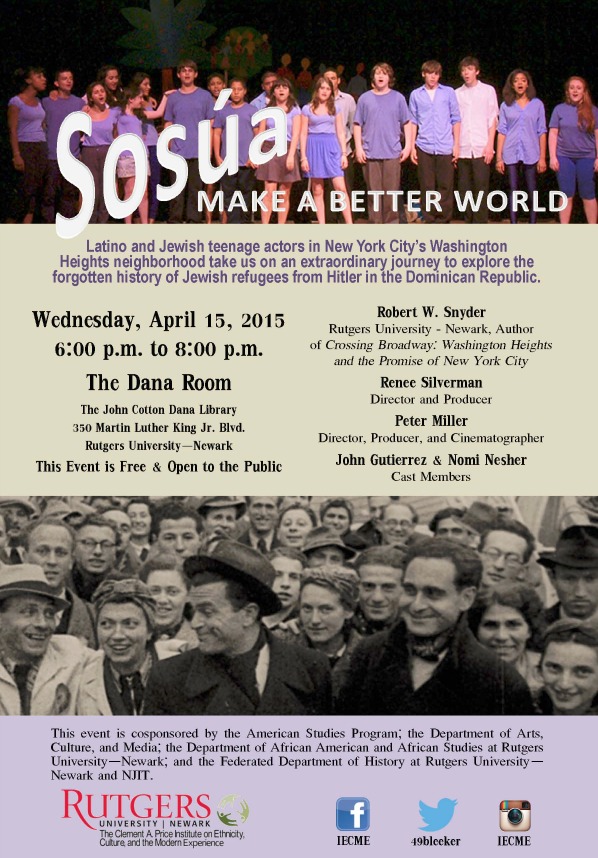 Latino and Jewish teenage actors in New York City's Washington Heights neighborhood take us on an extraordinary journey to explore the forgotten history of Jewish refugees from Hitler in the Dominican Republic.
Sosúa: Make a Better World tells the story of the teenagers, who together with the legendary theater director, Liz Swados, put on a musical about the Dominican rescue of 800 Jews from Hitler's Germany. Award winning filmmakers Peter Miller and Renee Silverman interweave an intimate, behind-the-scenes portrait of the neighborhood with this little-known Holocaust story.
Film Screening and Discussion
Wednesday, April 15, 2015
6:00 p.m. to 8:00 p.m.
The Dana Room
The John Cotton Dana Library
185 University Ave.
Rutgers University – Newark
Robert W. Snyder
Rutgers University – Newark, Author of Crossing Broadway:
Washington Heights and the Promise of New York City
Renee Silverman
Director and Producer
Peter Miller
Director, Producer, and Cinematographer
John Gutierrez & Nomi Nesher
Cast Members
This event is cosponsored by the American Studies Program; the Department of Arts, Culture, and Media; the Department of African American and African Studies at Rutgers University—Newark; and the Federated Department of History at Rutgers University—Newark and NJIT.
For more info: "Sosúa: Make a Better World" Screening and Discussion | Rutgers–Newark Colleges of Arts & Sciences.
Related:
MTV's 'Washington Heights' – A Historian's Perspective
The Washington Heights Riots of 1992 Remembered – Part 1
The Washington Heights Riots of 1992 Remembered – Part 2
Uptown Video: Dyckman City Gangsters
Long Ago, a Pilot Landed on an Uptown Street. That's Where the Bar Was. | NY Times
Historic Inwood: "Goodbye to Glocamorra" (1968)
The House on the Hill: A Murder In Washington Heights…
Inwood's First Selfie: Vermilyea Avenue Photographer William Hassler | My Inwood
We invite you to subscribe to the weekly Uptown Love newsletter, like our Facebook page and follow us on Twitter, or e-mail us at UptownCollective@gmail.com.