Story by Gregg McQueen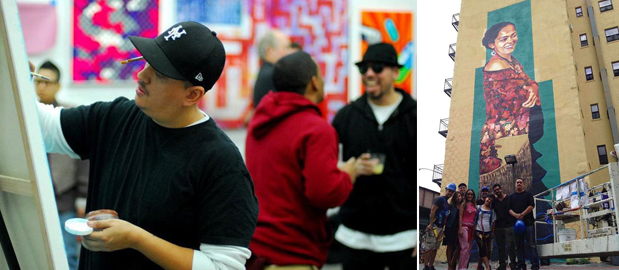 Nelson Host Santiago spent years as a street graffiti artist, spreading his moniker "Host One" on murals and tags throughout the city.
He now creates canvas paintings that incorporate the same elements of graffiti.
"I use spray paints and paint markers for my canvasses," said Santiago. "And my characters have a cartoon-like element, so it definitely has that graffiti feel."
Born in Harlem, Santiago first became interested in art at the tender age of four, after one of his uncles gave him a series of comic books.
"Even at that age, I was always drawing, painting, sketching — I was constantly doing art somehow," he explained. As a child, he mostly drew superheroes and villains inspired by his comics.
Read more: From corner to canvas De esquina a lienzos | Manhattan Times News.
We invite you to subscribe to the weekly Uptown Love newsletter, like our Facebook page and follow us on Twitter, or e-mail us at [email protected].