Story and photos by Mónica Barnkow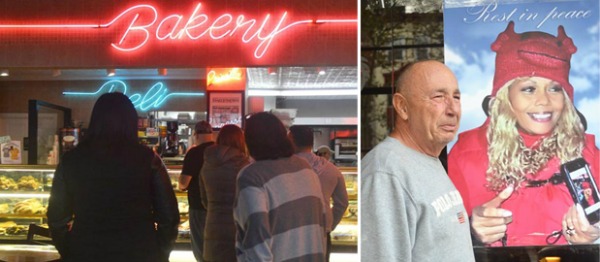 Back in the 1980's, when Renee and Robert Mancino sought to open a bakery in Washington Heights, the neighborhood was considered dangerous.
Far fewer businesses were seeking to set up shop in the Northern Manhattan in which the drug wars raged. Retail space was relatively inexpensive.
"In 1980, you needed a gun to walk around here," said Robert Mancino, owner of Carrot Top Pastries. "They begged me to take this store."
The retired police officer spoke outside the Washington Heights eatery, just a day after his wife and business partner, Renee Mancino, had taken her life inside the store.
"Everybody was doing drugs around here," added the couple's long-time friend, Jeff Marcus.
Marcus met Renee over 40 years ago at a hardware store he owned on 207th Street, and would go on to provide the couple with financial assistance for the first Carrot Top in Inwood.
It was the beginning of a long friendship that was mutually supportive.
"I helped him when he needed," said Marcus. "And he helped me when he could."
When they later opened the second Carrot Top Pastries shop at 3931 Broadway, Mancino said that he and his wife were pioneers in the area. Their store, he said, provided a safe space in which local residents could gather and helped to "build the block."
Renee, in particular, quickly established herself as a welcoming proprietor with a warm smile and generous spirit.
Read more: "She was my love" | Manhattan Times News.
Related:
Bakery owner fatally shoots herself inside shop | New York Post
Best of New York: Carrot Top Pastries in upper Manhattan is tops for carrot cake | NY Daily News
Time Travel Tuesdays: From Bitter Seeds, Carrot Cake Empire | NY Times
We invite you to subscribe to the weekly Uptown Love newsletter, like our Facebook page and follow us on Twitter, or e-mail us at [email protected].