The blokes over Epic Fireworks in the UK are "the biggest And best Fireworks blog in the world" and they recently showed our little film some love. Check out what they had to say below and please check out the film and share it widely…
Epic Fireworks Blog
The Incredibly Spectacular Dyckman Fireworks Co. is a close up look at how one neighborhood in New York has taken celebrating Independence Day to another level.
The Upper Manhattan suburb of Inwood's residents come together on the streets with their family and friends on July 4th to celebrate Independence Day away from the more popular Macy's Independence Day Parade (which incidentally a number of them mention watching on TV before coming outside) and remain outside until the wee small hours.
In part, it appears to be a little irresponsible but as the footage shows there is a substantial Police and Fire Service presence creating a feeling of controlled madness and excitement but young and old gather together to await the fireworks which are launched from all possible sites.
There is no set up or safety plan in sight and a feeling of minor competitiveness as each person tries to outdo the last. The relaxing musical rhythm and the food being cooked all around creates a great evening out and long may it continue.
via The Incredibly Spectacular Dyckman Fireworks Co. | Epic Fireworks Blog.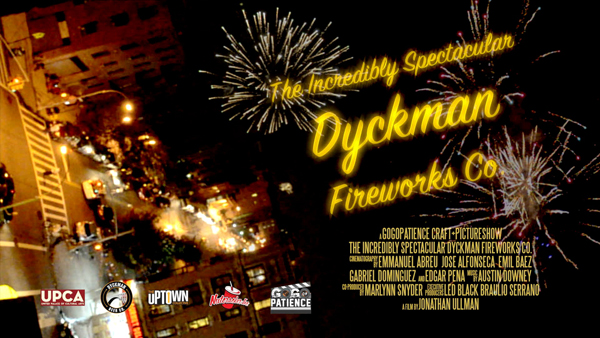 Related:
The NY Times Says Watch Dyckman Fireworks…
Annual Upper Manhattan fireworks spectacular stars in new short film | NY Daily News
Lighting it up | Manhattan Times
World Premiere of Dyckman Fireworks @ District 12 In Pictures…
We invite you to subscribe to the weekly Uptown Love newsletter, like our Facebook page and follow us on Twitter, or e-mail us at UptownCollective@gmail.com.