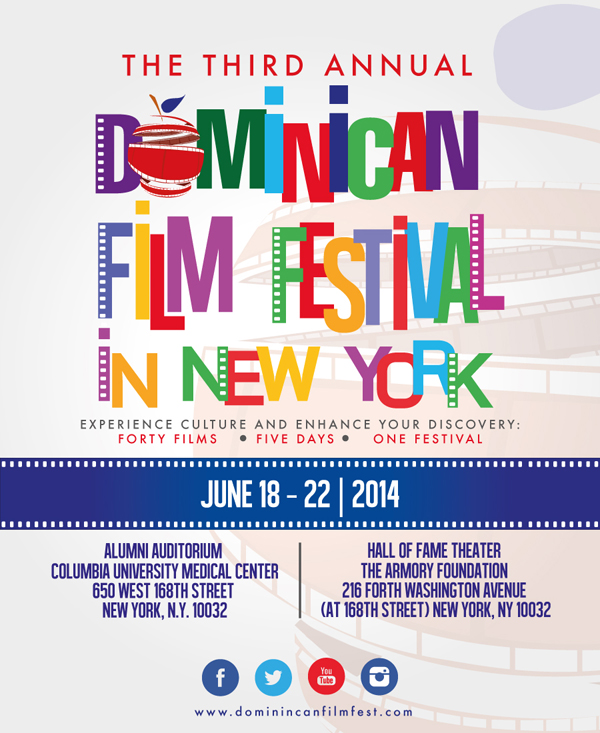 Okay folks, the 3rd Annual Dominican Film Festival in New York (DFFNY) kicks off on Wednesday June 18th. This year the festival will be bigger, better and broader than ever before. Get this – 40 films in 5 days as well as a whole host of artist tributes, panel discussions and events. DFFNY is all about celebrating and highlighting the best that the Dominican Republic's film community has to offer, right here in the capital of the Dominican Diaspora, Washington Heights. There are bunch of must attend events and films so please check out http://dominicanfilmfestival.com/ for a full listing of all the awesomeness in store for film lovers.
DFFNY will take place at two venues from June 18th to June 22nd at the Alumni Auditorium of Columbia University Medical Center, located at 650 West 168th St on the corner of Broadway and also at the Hall of Fame Theater of the Armory Foundation, located at 216 Fort Washington Avenue (at 168th Street).
Here is a short list of some of the films and projects that we over here at the UC really want to see. Enjoy and get your tickets ASAP!
For more info: http://dominicanfilmfestival.com/
Biodegradable
In the year 2031, a drastic landscape in Latina America has ignited. The global crisis has destroyed the current political system, ultimately leaving a new form of government as an alternative. Despite the occurrence, a love story between Rosa and Daniel erupted where it is survived even through Gravelli, a powerful man. The story explores the human involution, in which the economic interests of a group of politicians have turned men and women into raw material for the sake of business.
Blanco
Blanco is an observational documentary that portrays the personal lives of six people of different ages who live with the condition of albinism in a small rural mountain community of the Dominican Republic, called Constanza. But they share more than their skin tone. Without having any information or knowledge about their condition, these human beings struggle to live every day as normally as possible, while sunburns and progressive blindness are among the physical sufferings they must endure.
El Gallo
Gallo has to return to his homeland, Dominican Republic, deported from the US after serving 25 years for a crime, after being implicated by his wife and former friend. Upon his return, he is thrust into the underbelly of contemporary Dominican life, where he meets Gaby and a fierce group of trans prostitutes and drug dealers living on the edge. Our hero is an imposing and resolute character by the way he faces life and a corrupt society that tries to tag him, ostracizing him under the excuse of social morality. Secrets from Gallo's past begin to unravel, and become more clear, forcing him to forge new and strange alliances with the cunning, resilient and unpredictable ladies of the night.
Duarte Traicion y Gloria
As a liberator and main patrician of Dominican Republic, Juan Pablo Duarte Diez embarked on a trail that cemented him into history. It focuses on his discovery of Dominican Republic along with the women who gravitates into his life and his forced exile to Caracas, Venezuela where he finally died. It displays his life unknown to what is shown of him.
Journey of a Female Comic 
Through the eyes of Kiki Melendez a writer, actress, producer and a creator of her own destiny, comes a film that truly represents Latinos in America in a hilariously honest way. Follow Kiki's journey through Hollywood as she navigates the cutthroat world of comedy, business, friendships, culture, and beyond, all through the voice of an uproarious comedienne, who has been taking names and turning heads, just like her hardworking immigrant mother taught her. Don't believe it, just ask her friends, Journey of a Female Comic stars Nadine Velazquez, Jacob Vargas, Edward James Olmos, Esai Morales, Maria Conchita Alonzo, Lupe Ontiveros, Felipe Esparza and more. From a tiny town in the Dominican Republic, to Hollywood, follow the princesa of Bel Air through her trials and tribulations as you laugh your way through this quintessential story of "struggling in luxury," as Kiki herself would put it.
La Montana
In May 2011, a Dominican and Caribbean expedition made history when they placed the Dominican flag on the highest mountain in the world – Mount Everest. Their amazing achievement inspired three young surfers, sons of fishermen in the coastal town of Nizao, who decided to scale the highest mountain in the Dominican Republic and the Caribbean – Pico Duarte. This is the story that unites a naïve story with an epic one, both inspirational and motivating as both groups set their sights on achieving the extraordinary. This is adventure story that carry us from the sea to sky and shows us that we all have a dream, a goal and a mountain to climb.
Mala Mala | The Doll House
In a celebration of the trans community in Puerto Rico, the fissure between internal and external is an ever-present battle. A unique exploration of self-discovery and activism, featuring a diverse collection of subjects that include LGBTQ advocates, business owners, sex workers, and a boisterous group of drag performers who call themselves The Doll House, Mala Mala portrays a fight for personal and community acceptance paved with triumphant highs and devastating lows. Through riveting cinematography that encapsulates the candy-colored, vivacious personalities as well as their frequently dark personal experiences, directors Antonio Santini and Dan Sickles dynamically present the passion and hardships reflective of this distinctively binary human experience.
Negra Noche
In a dystopian Santo Domingo in the year 2048, an unhappy man, Oscar Perez, struggles to live with the system, society and finally himself.
Ponchao
Ponchao is the story of Alex Ramírez, a man who's destined to be best baseball player that ever lived, and to fulfill that dream he will do anything. The unexpected events he encounters and the way he chooses to handle them just to play his beloved sport, land him in way more than a little bit of trouble. It's a heart-warming comedy that will make you laugh, cry and cheer.
Noche de Circo
A group of people from different professions and occupations, are trapped within a kind of narrow circular room, to which they have no idea how they got there, nor who took them there, much less know when they'll be able to leave. Gradually, they start to bring up their miseries and complaints, one against the other, these involving peculation, corruption, priestly pedophilia, prostitution, and social injustice, among others… Little by Little they will discover what they have in common.
Greencard Warriors
The story follows a 14 year old boy Angel, an undocumented Latino teen and his family, who struggle to find a place in American society. With the promise of naturalization papers, the US military presents Angel's father with the opportunity for a brighter future for his family if he sends his eldest son into the US Army. With his brother gone, Angel is left to the designs of a local street gang and his new found love whilst the family is left to deal with the consequences of the choices they have made.
A South Bronx Family
A South Bronx Family is a feature length documentary that spotlights a struggling family that is half Dominican, half Puerto Rican and that resides in the tough Melrose Projects, one of the poorest public tenements in the South Bronx, New York.
We invite you to subscribe to the weekly Uptown Love newsletter, like our Facebook page and follow us on Twitter, or e-mail us at [email protected].