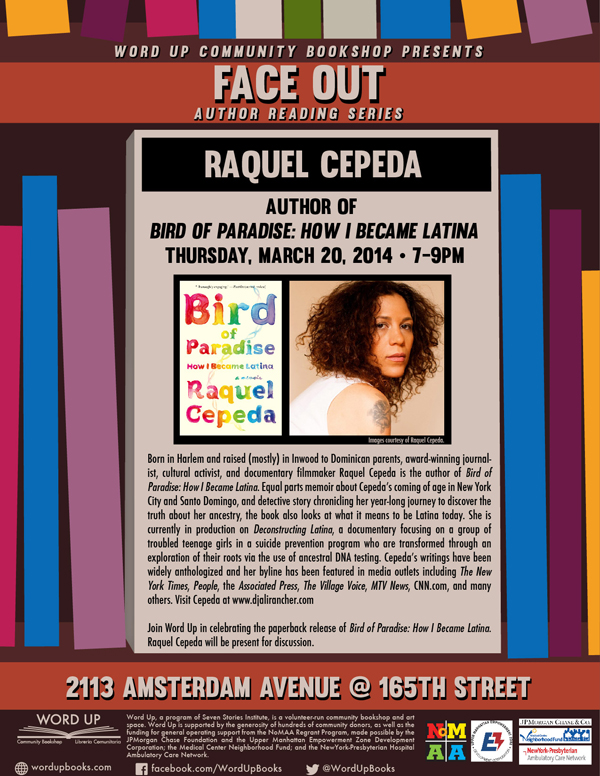 Bird of Paradise by Raquel Cepeda
Thursday, March 20 @ 7 PM
Word Up – 2113 Amsterdam Avenue @ 165th St.
Born in Harlem and raised (mostly) in Inwood to Dominican parents, award-winning journalist, cultural activist, and documentary filmmaker Raquel Cepeda is the author of Bird of Paradise: How I Became Latina. Equal parts memoir about Cepeda's coming of age in New York City and Santo Domingo, and detective story chronicling her year-long journey to discover the truth about her ancestry, the book also looks at what it means to be Latina today.
Raquel Cepeda is currently in production on Deconstructing Latina, a documentary focusing on a group of troubled teenage girls in a suicide prevention program who are transformed through an exploration of their roots via the use of ancestral DNA testing. Cepeda's writings have been widely anthologized and her byline has been featured in media outlets include the New York Times, Associated Press, the Village Voice, MTV News, CNN.com, and many others. Visit Cepeda at http://www.djalirancher.com.
Join Raquel Cepeda and Word Up in celebrating the paperback release of Bird of Paradise.
Read more: Face Out: Bird of Paradise by Raquel Cepeda | Word Up Books.
Related:
The Uptown Lit Festival In Pictures
The Uptown Lit Festival: The Social Media Recap
In Washington Heights, a Bookstore That Knows How to Make the Show Go On | NY Times
The Top 3 Reasons You Should Donate to Word Up Books
Junot Diaz Wishes Word Up Books A Happy Birthday!
Inwood Fire Fundraiser @ Word Up Books In Pictures
Last Night @ Word Up Books As Seen By Paul Lomax
We invite you to subscribe to the weekly Uptown Love newsletter, like our Facebook page and follow us on Twitter, or e-mail us at [email protected].