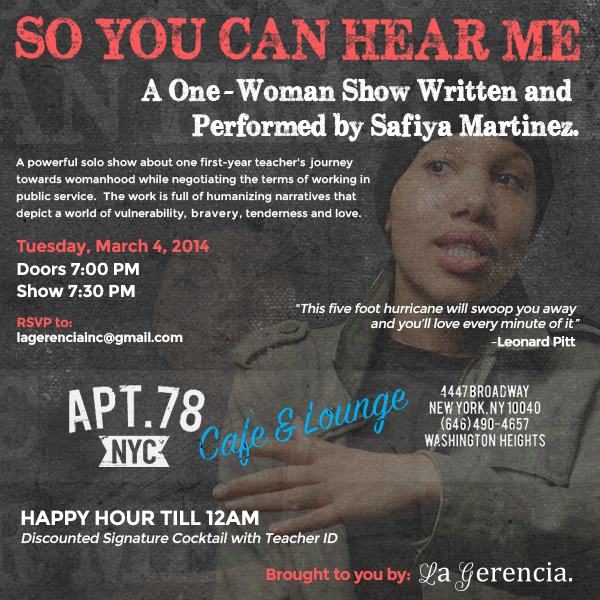 Few artists are predicted to succeed or have longevity in their careers after their first-ever theatrical production. Following her 2013 solo debut, So You Can Hear Me, it was clear that Safiya Martinez was one of those rare gems. Theatergoers and critics alike were immediately captivated by this unknown performer and were left wondering where the playwright/actress came from and where she was headed next.
Safiya Martinez was raised in the Lower East Side in New York City. The performer and educator turned playwright and actress was born to a Puerto Rican and Russian-Jewish mother (a classically trained dancer) and African-American father (a jazz musician).  Her neighborhood, an authentic place where she was first exposed to experience and class mash-ups, different languages and accents, both spoken and physical, served as Martinez' earliest inspiration. Growing up within such an artistically infused home in this humble yet vibrant and uncontrived melting pot, it was no surprise Martinez would have a unique take on life – a perspective that would surely color her distinct performance and writing style.
Martinez studied musical theater at the Professional Performing Arts School. She also attended various top dance academies including the prestigious Ailey School, STEPS and Broadway Dance Center, where she trained under the supervision of Madame Darvash of the Vaganova Ballet of Russia. Martinez then went on to earn a Bachelor of Arts in Anthropology and Digital Media at the New School University and a Master of Science in Urban Education at Mercy College. With these degrees under her belt, she became a high school teacher, a role Martinez planned on using as a vehicle for lasting impact in the community, until she was faced with a different reality.
In So You Can Hear Me Martinez explores the new world she came crashing into, or better yet, the world that came crashing into her. This solo debut examines her journey towards womanhood as an inexperienced twenty-three year old; conflicted about and simultaneously invested in teaching, while negotiating the terms of public service in an under-resourced South Bronx community.
Driven by a hunch and a few testing years in the most underserved high school of the oft forgotten neighborhood, Martinez moved to the West Coast to complete a Master of Fine Arts in Playwriting at San Francisco State University. Although not aware that she had been creating the blueprint for the characters of her first production, Martinez was always a writer. Her pieces "Hair" and "Small Lies" were published in Generations Literary Magazine, but it was at this time when she decided to take on acting full throttle and studied the Meisner and Chekhov technique at the American Conservatory Theater. The show in creation would be a depiction of Martinez' experiences as that first-year teacher in the South Bronx. She joined the Marsh Theater where solo performance director, David Ford guided her in the development and execution of her one-woman performance.
The work is full of humanizing narratives that depict a world of vulnerability, bravery, tenderness and love. After a three month theatrical run in San Francisco, it was called the "most promising solo performance of 2013" by the San Francisco Bay Guardian. The Huffington Post writes, "As a solo performance artist (and a gifted writer), Martinez has done an excellent job of making So You Can Hear Me a lean, trim monologue which never sags or loses focus." The San Francisco Chronicle called it, "Tantalizing, affecting and comically empathetic" and Safiya a "gracefully protean performer [with] more than enough talent and charm to make a name for herself…"
Fueled by the influences of Anna Deavere Smith, Danny Hoch, John Leguizamo, Sarah Jones and Dave Chappelle, the prolific contemporary performer explores the thematic territories that deal with gender, urban living, storytelling, resiliency, humanity and love.
We invite you to subscribe to the weekly Uptown Love newsletter, like our Facebook page and follow us on Twitter, or e-mail us at UptownCollective@gmail.com.