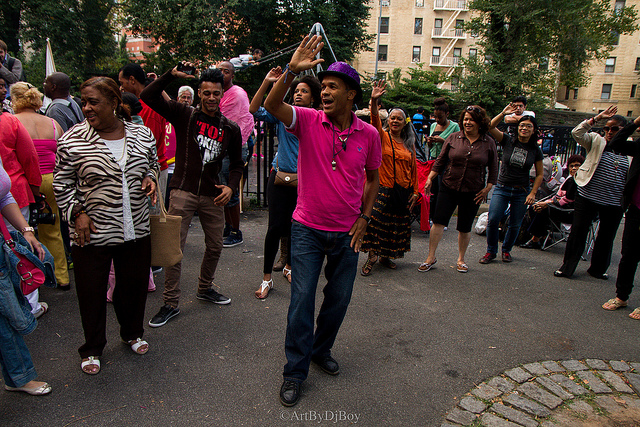 Gaga P'al Pueblo's Photographic Songs
District Office of Council Member Ydanis Rodriguez, 618 w. 177th St.
Thursday, February 20th, 2014 6:00 PM
Council Member Rodriguez's office will play host to a spectacular photography show featuring local artists from the Dominican musical and cultural group, "Gaga P'al Pueblo". The stunning photographs bring to life the joy and passion of the artists as they celebrate the Dominican cultural phenomena known as Gaga.
"Gaga P'al Pueblo" plays every Sunday during the summer at Anne Loftus Playground in Fort Tryon Park at Dyckman St. and Broadway. The photographs capture vibrant scenes as the musicians and performers celebrate with local children and families with song and dance. All artists will be present during the Gallery opening for questions and discussions about the artwork.
This is the 9th and latest installment of a series of local artist exhibits held bi-monthly at the office of Council Member Ydanis Rodriguez. Council Member Rodriguez has opened his office as gallery space for local artists to give them an opportunity to show their work to the community. Due to a lack of gallery space in the district, this is a great chance for residents to view quality artwork from their talented neighbors.
Check out: Gagá pa'l Pueblo In Pictures
We invite you to subscribe to the weekly Uptown Love newsletter, like our Facebook page and follow us on Twitter, or e-mail us at UptownCollective@gmail.com.