BY Jenni Ruiza (@RuizaJenni)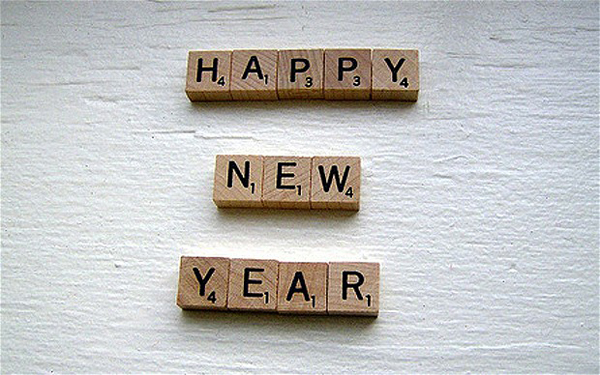 It's a new year and what does that mean? Well, 2013 was an amazing one. After all, I had the opportunity to show all of you just a small part of how beautiful, fresh, and innovative the Boogie Down Bronx can be! We have some dope coffee shops to visit when the Cafecito at home doesn't cut it. I've introduced you to some insanely talented artists from the borough that you're guaranteed to hear more of, and we explored some of the most appetizing restaurants the Bronx has to offer!
I'm not even close to being done, so don't you worry. But now that it's a new year, we're itching to find ways to do new things, bring out a new side of ourselves, and of course, challenge ourselves to stick to something or let something go. Resolutions are always a challenge, but here are a few ways to make sure 2014 will be a good one for all of us!
Say what you mean. Mean what you say.
I can't stress how many times I saw a Facebook status or Instagram picture of empty promises. You're not fooling anyone but yourself if you fill the ether with words that are not meant to be true. Last year, I found my truth in myself – which is not an easy thing to do (hell, some of you shared it with me in my Single Girl from the BX Saga!) but you know all of those half-assed friends who are only there, well…HALF of the time? You say you're going to let them go, but remnants of them are still around. Or that thing you promised yourself you'd do and posted it online but then never followed up because you were too lazy to get out of bed? Yeah those things.
NOW is the time to do something about it without announcing it to the world. In fact, make this a general rule: don't announce you're about to do something, announce that you HAVE done something.
Don't make resolutions – make goals.
Everyone has been saying this and so far it's the more realistic thing I've heard. We all know that the moment a resolution is made, it's been destined to be broken. Last year I said I was going to do the money challenge (you know, the one where you transfer the amount of money equivalent to the week it is) along with a bunch of other friends and when I followed up a few weeks ago on who actually carried it out – none of us had! In fact, we all ended up coming up with our own budget that worked out much better. And the obligatory losing weight goal can be summed up in this photo alone.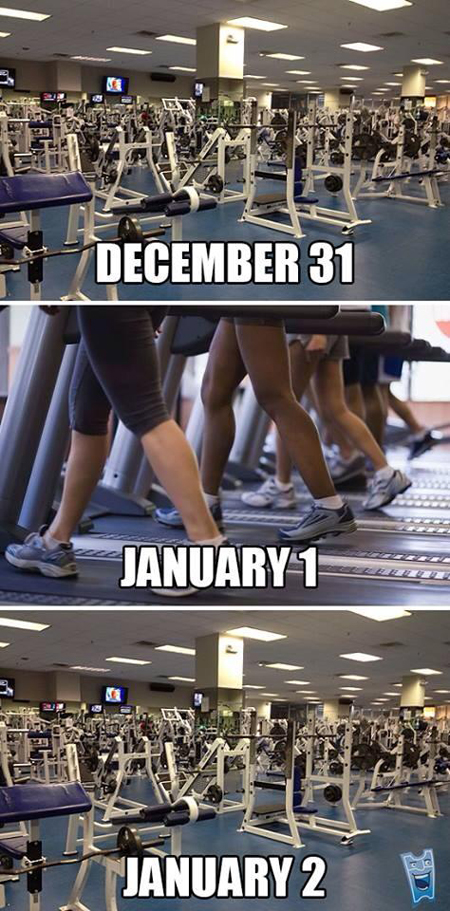 Don't go too hard – if you start off in full effect you may burn out.
A build up is a lot smarter and you end up challenging yourself throughout the year to be better and better. If your goal is to start going to the gym, don't try and go every single day – by the next week, you'll be over and done with it. Try going twice a week, then three times and switch it up. Everything works better in moderation, at first, until you're ready to dive in mentally AND physically. Remember, you can't have one without the other.
Different things work for different people.
We all look at Pinterest and Google instructions on how to do new things, right? But, do you ask yourself – what is it that works for me? Everyone has opinions and advice on what they think will work for you based on their own experiences and you know you give advice to others that you won't even take, but this year, challenge yourself to think about the person who should matter most: YOU.
Try new things and be fearless!
I know, it sounds so cliché but the reality is that if we are stuck in our comfort zone, then we're not learning and growing. Go to the new restaurant and try that new food, go take a class, go try that new shade of lipstick – hell, go to Colorado and hit up the reefer shops if you've never smoked in your life! The most important thing at the end of the day, even if you hated all of it, was that you tried. This year, I'll be trying my hand at standup comedy – I may regret it and I may bomb, but it's been a dream of mine to step on stage and tell everyone about the ridiculous way I was raised – so go out there and be fearless!
I plan on making 2014 the starting point to a lot of new chapters. But, I won't be able to do that without following these steps! I hope you'll stay with me on the journey! Let's stay focused, challenged, and fearless Uptown!
Find out more about Bronx contributor, Jenni Ruiza, at http://www.jenniruiza.com/. Follow her on Twitter @RuizaJenni.
Related:
The Best of the Boogie Down: Runner, Runner – The Review
The Best of the Boogie Down: Qurrat Ann Kadwani's They Call Me Q!
The Best of the Boogie Down: Project Bronx
The Best of the Boogie Down: Artist Spotlight – Alba Garcia-Rivas
The Best of the Boogie Down: Artist Spotlight – Roman Suarez
The Best of the Boogie Down: Artist Spotlight – Franceli Chapman
The Best of the Boogie Down: Artist Spotlight – Latina Vega
The Best of the Boogie Down: House of Cupcakes
The Best of the Boogie Down: Brew Coffee House
Heineken Ritmo Sonico: Zion y Lennox – The Recap
The Best of the Boogie Down: The Bronx Documentary Center
The Best of the Boogie Down: The Bronx Beer Hall
The Best of the Boogie Down: Artist Spotlight – Jesenia
The Best of the Boogie Down: Raine Lounge
Introducing The Best of the Boogie Down
We invite you to subscribe to the weekly Uptown Love newsletter, like our Facebook page and follow us on Twitter, or e-mail us at UptownCollective@gmail.com.