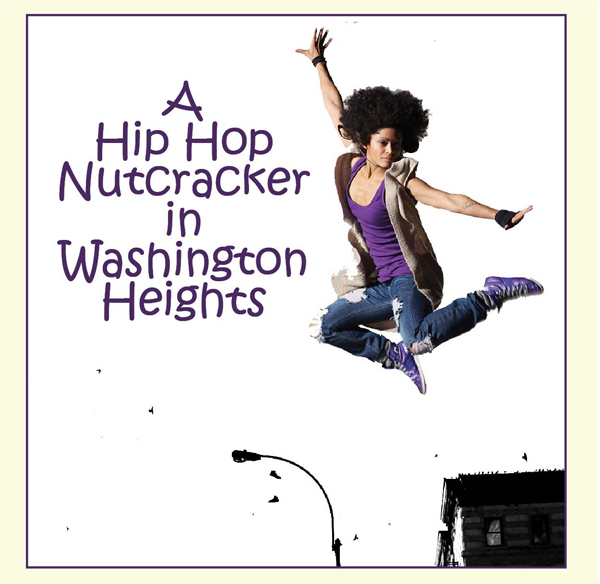 The story transplants the classic holiday story to the streets of contemporary Washington Heights and mashes up all of UPCA's influences. It starts with the original music penned by Tschaikovsky in 1892 and the story "The Nutcracker and the Mouse King" by E.T.A. Hoffmann. Instead of ballet, the story will be told through hip hop dance. Much of the scenery will be digitally projected, making use of cutting edge motion capture technology. The audience will be guided by a bilingual (English and Spanish) emcee/rapper. The production will be rounded out by a classically trained electric violinist and DJ.
Directed and choreographed by Jennifer Weber from the award-winning hip hop company, Decadancetheatre, featuring dancers Megan "Megz" Alfonso, Ann-Sylvia Clark and Sammy "Samo" Soto.
Set to "The Nutcracker" by Peter Ilyich Tschaicovsky remixed and re-imagined by DJ Boo, violinist Filip Pogády and MC Audubon, co-star and co-producer of MTV's "Washington Heights."
Projection and lighting design by Dave Tennent and Joe Cantalupo.
Adapted and produced by Mike Fitelson, UPCA executive director.
Check out: "A Hip Hop Nutcracker in Washington Heights".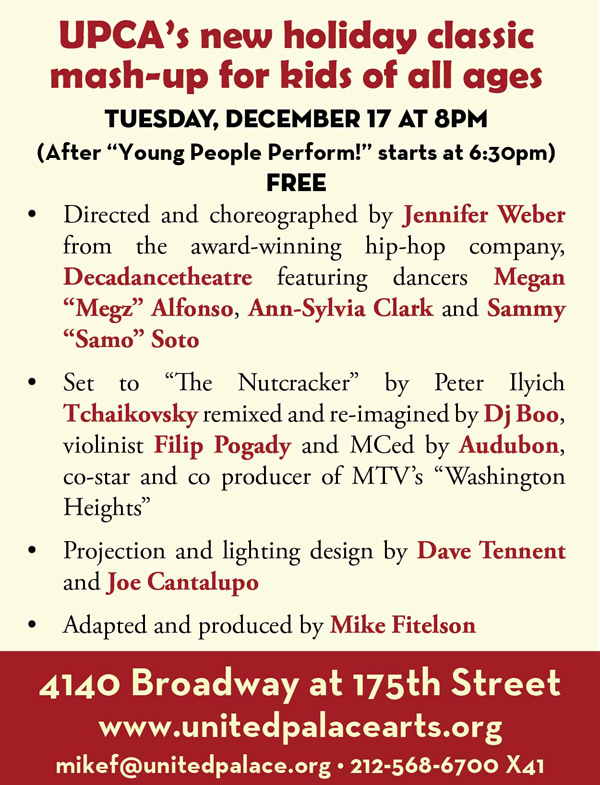 Related:
We'll always have "Casablanca," and the Palace
Dracula Comes To Washington Heights For El Dia Del Los Muertos
Icarus at the Edge of Time @ the United Palace
In The Heights @ The United Palace – The Recap
The significance of "In the Heights" at the United Palace
The 2012 Uptown Arts Stroll Kick-Off – The Recap
Spa For The Soul: A Q&A With Xavier Eikerenkoetter
We invite you to subscribe to the weekly Uptown Love newsletter, like our Facebook page and follow us on Twitter, or e-mail us at [email protected].