BY Eileen Z. Fuentes (@theSPEACHgal)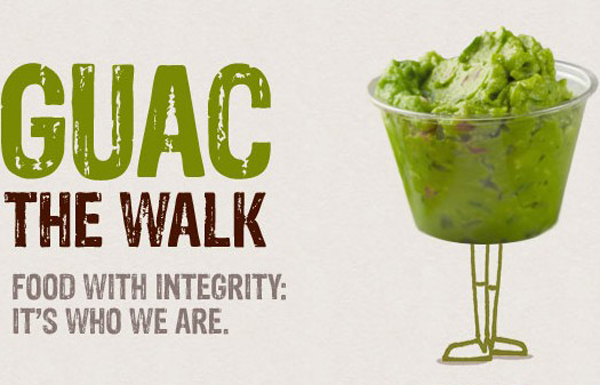 September 16th is National Guacamole Day! So to honor this event, I invite you to head over to Chipotle located at 4009 Broadway (between St Nicholas Ave & West 170th St) and order yourself some of the tastiest guacamole in the neighborhood.

Recently a well-known company, Naked Juice owned by PepsiCo, was named in a class-action lawsuit for the use of phrases like "100% Juice," "100% Fruit," "From Concentrate," "All Natural," "All Natural Fruit," "All Natural Fruit + Boosts" and "Non-GMO." If you purchased any of their products, you are entitled to a settlement ranging from $45-$75 with or without a receipt. You can file a claim here.
Chipotle recently opened its doors in our neighborhood and to be quite honest, it was long overdue. Their philosophy about serving freshly prepared food, and their commitment to our farmers and their animals is one to be commended. In their first animated short film, they tackled the issue of sustainability. Now they've done it again with the truth behind elusive health terms like "all natural" and "farm fresh".
Many countries including Australia, Japan and all of Europe have banned the use of Genetically Modified Organisms (GMO). Unfortunately, the United States not only allows the use of GMO's, they also don't believe you have the right to know when it's in your food and therefore labeling is not required. Chipotle realizes that consuming GMO's has been linked to autism, allergies, ADHD, diabetes, cancer and obesity and has opted to label their products even though they have no legal obligation. So join me in welcoming Chipotle to our neighborhood.  We're glad they're finally here!
To find out more about what's grown closest to you and how you can get your hands on it, just visit to localharvest.org or justfood.org.
If you'd like to celebrate by making some guacamole at home, visit avocado central for tasty and easy recipes: http://www.avocadocentral.com/avocado-recipes/guacamole-recipes
Related Post:
The Elixir – Uptown Soul Food: Avocados
The Elixir Eats – Washington Heights Gets Its Healthy On
The Elixir: How I Knew I'd Meet Oprah!
The Elixir: Letting Go of F.E.A.R.
The Elixir Recipes: Popsicles, Promises and Plan B's!
The Elixir: Secrets of a Long Life – Arthur Gewirtz
The Elixir: Secrets of a Long Life – Don José
The Elixir: Secrets of a Long Life – Hilda Garcia
The Elixir: Secrets of a Long Life – Pilar De Jesus Gonzalez
We invite you to subscribe to the weekly Uptown Love newsletter, like our Facebook page and follow us on Twitter, or e-mail us at UptownCollective@gmail.com.