BY Andrea Gompf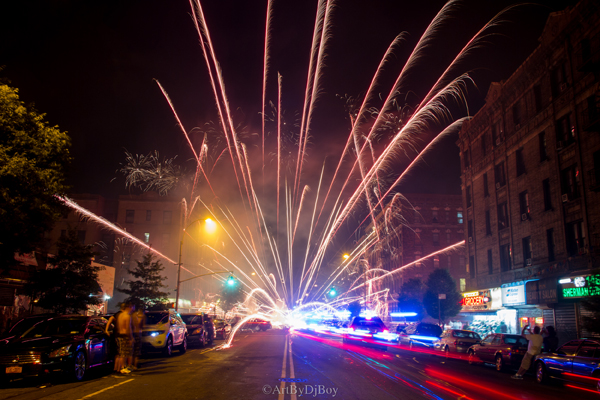 Mayor Bloomberg and his special Fireworks Crackdown Division tried their hardest to bust every DL sparkler vendor in the five boroughs this summer – but from the looks of the video teaser below, that didn't put a dent in Dyckman's 4th of July celebrations.
Executive produced Uptown Collective founder Led Black and directed & edited by Jonathan Ullman, the teaser is for The Incredibly Spectacular Dyckman Fireworks Co., a short documentary that will chronicle "the magic, pomp and spectacle," of the illegal firework displays that take place each Independence Day on the border of Inwood and Washington Heights. As Led described it to us yesterday,"A bunch of tigueres pool all their money and battle to see who can put on the craziest street fireworks in the hood."
In addition to providing gorgeous footage of the festivities – as well as a strong dose of "NOOO SUMMER CAN'T BE OVER" denial – the short was created as a a promotional adjunct to Led's full-length documentary Nutcracker Inc., a behind the scenes look at the history of the clandestine street drinks. We're excited to see both projects. Stay tuned!
via: VIDEO: As We Say Goodbye to Summer, Check Out Some Illegal Fireworks That Would Make Bloomberg Weep | Article | Remezcla | Remezcla.com.
Check out: The Incredibly Spectacular Dyckman Fireworks Co.
We invite you to subscribe to the weekly Uptown Love newsletter, like our Facebook page and follow us on Twitter, or e-mail us at [email protected].