A Word From Tess
Hello fellow (and Future) "HipRocknB" Rebels…Welcome to my Indiegogo page. You all may know me as Tess but more descriptively my twitter blurb describes me best: Singer, Songwriter, Lover of loving, Pisces, Lefty, Only child, Corny at times. :-D… and your new favorite indie artist [okay I added that last part for effect but it's the truth! lol]
A quick background on me – In May 2012 I released my very first original body of work, The Name Is Tess EP, Executive Produced by Mr. Reynolds. I honestly didn't know what to expect when people heard my genre of music, which I call "HipRocknB," BUT it has gotten an AMAZING response thus far. We have been working non-stop to prove that our "HipRocknB" movement deserves to be heard!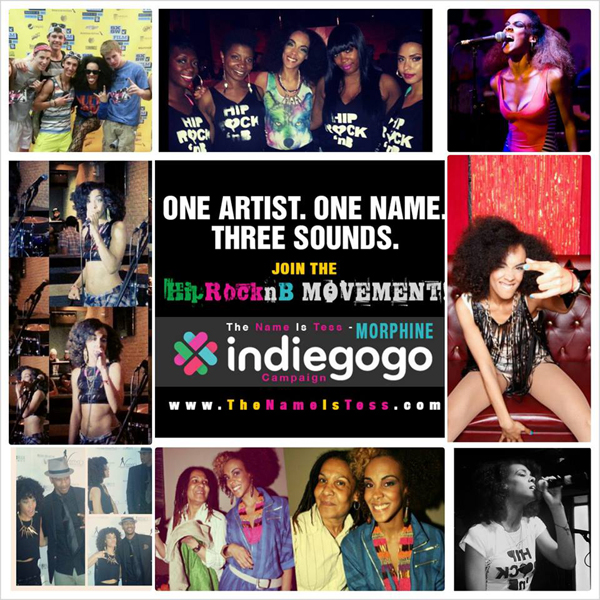 WHAT IS "HipRocknB" YOU ASK?
By definition it is fusion based and in your face.  The goal is to create music that moves people using the raw essence of Hip-Hop, Rock and RnB and "MORPHINE" is definitely a great snapshot of what "HipRocknB" means to me.
WHY ARE WE ASKING FOR YOUR SUPPORT?
We are asking for your support to help us give LIFE to our third single, "MORPHINE, one of YOUR (and my) favorite songs off the EP. It's definitely one of my more personal and introspective songs about knowing something is wrong inside and not knowing what to do about it except hide in a dark room and just dive into the pain. This song has been known to reduce me to tears during live performances [not a good look during difficult vocal performances lol]. I receive emails, comments and messages from fans expressing their connection to this song. (I'm humbled and amazed every time).
Donate here: http://indiegogo.com/projects/the-name-is-tess-morphine-official-video
Related:
#HIPROCKnB: The Magnificent Mélange That Is Tess
Vine of the Times: @TheNameIsTess – My arms are already tired…
Herstory Unplugged – The Recap
We invite you to subscribe to the weekly Uptown Love newsletter, like our Facebook page and follow us on Twitter, or e-mail us at [email protected].