BY Edgar Peña (@stayGFTD)
Photography by Gary Santana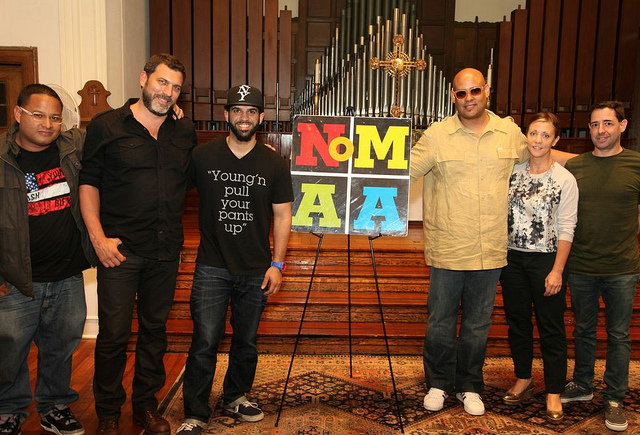 I really didn't know what to expect when I paced through the rain on my way to the Uptown Production Panel hosted by NoMAA. As I walked in I noticed a cheery crowd of emerging filmmakers, and established filmmakers, unaffected by the pouring rain, passionately discussing upcoming projects and collaborations before the panel had even begun. I was excited by the positive energy buzzing around the room, to say the least.
The panel was moderated by Uptown Collective's very own Editor-in-Chief, Led Black, a filmmaker and producer in his own right, with some highly anticipated projects in the pipeline. The panel was very intriguing, particularly in the stark contrast, and vast experience, between all of the filmmakers on stage.
On the panel were Frank Nibbs and Mike Diaz, who we all might know better as Juan Bago, or as the Patron Saint of the Bronx Fernando! Together Frank Nibbs and Mike Diaz have been running Heights Entertainment a film and video production company responsible for countless commercials, short films, PSA's, and music videos. Most notably they are the minds behind the Juan Bago & O parody group. Juan Bago & O have famously parodied mainstream hits like Wiz Khalifa's Black and Yellow and Chief Keef's "Don't Like" to bring you powerful social commentary in a package that will have you bursting out in laughter.
Also on the panel was Beck Hickey. Beck brought over 15 years of Advertising & Design experience. She is also one of the creative minds responsible for taking a "what if" all the way to primetime on MTV, via the groundbreaking series Washington Heights. Beck is also an Executive Producer for local production company Onesevenone Productions. Onesevenone Productions is responsible for some of the most powerful imagery currently being made in Washington Heights, and Beck guides that vision to new platforms on an everyday basis.
Rounding out the panel was Aaron Levine and Jonathan Ullman. Aaron is an independent film producer based out of Bed-Stuy. Aaron brought a real nuts and bolt approach to the panel discussion. An insight you barely get when you're running around with your DSLR camera, but one that is crucial to creating professional quality content. With a long list of accolades and a long list of upcoming projects Aaron really provided a perspective on the juggling act that is filmmaking.
Among Aaron Levine's many projects is the captivating drama Trouble in the Heights, the directorial debut of Jonathan Ullman. Trouble in the Heights is the epitome of the collaborative spirit found in Washington Heights. It is a feature length film shot in The Heights, about the Heights, and by the Heights; with a full Latino cast, a leading man born and raised in the neighborhood, and a director that resides right here in Washington Heights. Jonathan captured Washington Heights from the inside out, and really serves to build the excitement for his next project based on the famous Paradise Garage.
This group really brought a plethora of perspective on film making. Everything from the legal actions to take to protect your assets, to scouting locations, to casting in the heights, to the true grit needed for filmmaking was discussed in great detail in a conversational style that I have never really experience in any other panel. Many different filming styles were discussed in first person. Frank Nibbs discussed the guerilla aspect him and his crew typically do; including pitching the idea and heart of the project to local business owners, and even to police officials in some cases, for the sake of getting the shot. Beck really gave us some insight on sticking by the vision of your project when you sit in a meeting with the big fish. Jonathan and Aaron really gave us true insight and creating a full length feature, emphasizing the importance of operating at high professional level, even when working on a low budget.
The greatest moment came when the panelist began posing questions to each other, turning the entire room to flies on the wall watching professionals extensively discuss their passion and perspective aloud amongst themselves. This was a genuine impromptu moment that really exemplifies the spirit of collaboration alive and thriving in Washington Heights. To paraphrase Beck, the artists have always been here, but now they are coming together in a way that has never been done and really helping each other excel and stand strong.
We invite you to subscribe to the Uptown Love newsletter, like our Facebook page and follow us on Twitter, or e-mail us at UptownCollective@gmail.com.