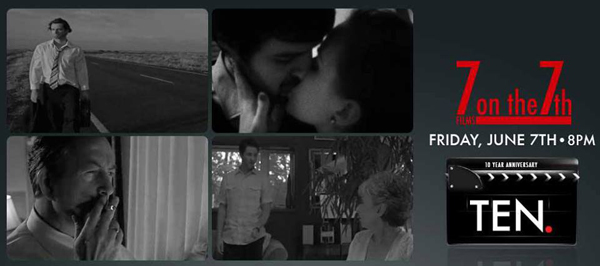 The good folks at the Bronx International Film Festival are giving Uptown Collective readers a chance to win tickets to their Seven on the Seventh screening of short films. All you got to do is answer the following really easy questions via email and you could be picked to partake in this cinematic joyride.
1. What is the date for the 7 on the 7th event?
2. Number of films screened at 7on the 7th?
3. Where can you buy a big gulp?
Email your answers to triva@bronxstage.com with Uptown Collective on the subject line.
The Bronx International Film Festival will screen seven narrative short films on June 7th at 8 PM in the Lovinger Theatre/Lehman Stages at Lehman College. Film trailers and information are available on http://bronxfilmfestival.com. You can also connect with BXFF via https://www.facebook.com/bronxfilm  and  http://twitter.com/bronxfilm. One-night screening pass is $7. http://www.brownpapertickets.com/event/394331
Lovinger Theatre/Lehman Stages is conveniently located on the CUNY campus of Lehman College at 250 Bedford Park Blvd West, Bronx, NY 10468 near the #4 and D lines and just minutes away from Westchester and the GW Bridge.
Films to be screened in competition include "Amanda Loves Corey" by Warwick Brown (Australia), "Numbers on a Napkin: A Love Short" by Jeff Pinilla (USA), "The Cart" by Natasha Novik (Russian Federation), "How to Break Up with Your Mother" by Lawrence Zoeller (USA), "Sharp Love, Sharp Kittens" by Jon Sajetowski (USA), "Fate Accompli" by Eric Neal (USA) and "Do Tell" by Noah DeBonis (Japan).
Celebrating it's 10th Anniversary, The Bronx International Film Festival (BXFF) was established to pay homage to and revitalize the history of film in The Bronx and provided a new avenue for filmmakers to submit work and a hub for audiences to appreciate it. The festival places special emphasis on film submissions with an urban appeal; however, all filmmakers with a visual story to share are encouraged to participate. We accept short and feature narrative, documentary, animation and experimental submissions from all over the world.
Site:  www.bronxfilmfestival.com
Twitter: @bronxfilm
We invite you to subscribe to the Uptown Love newsletter, like our Facebook page and follow us on Twitter, or e-mail us at UptownCollective@gmail.com.