BY Jenni Ruiza (@RuizaJenni)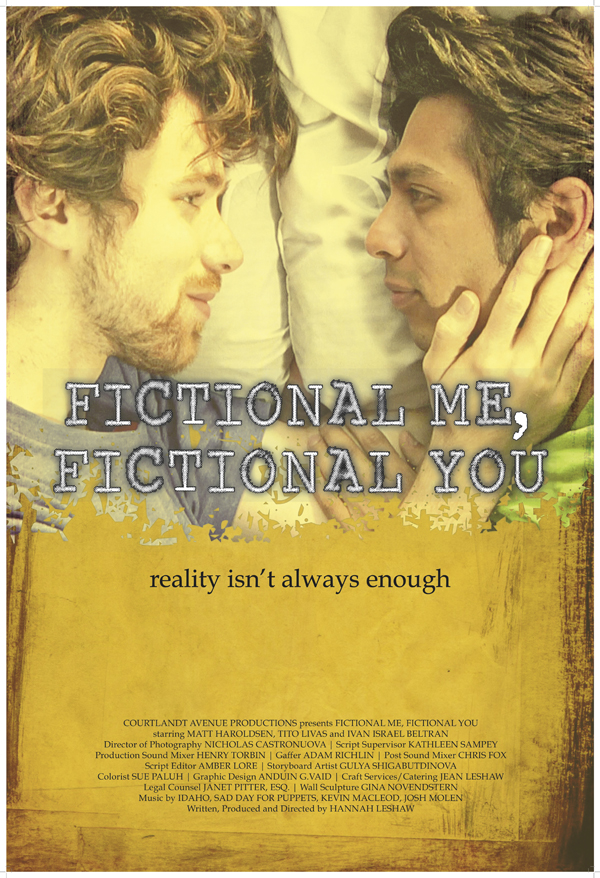 What are some of the greatest films made in and about the Bronx? A Bronx Tale, The Warriors, Summer of Sam come to mind. But the Boogie Down is becoming a growing home for filmmakers focusing on bringing film to a place often overlooked. A few weeks ago during Bronx Week, the 3rd Annual Bronx Week Film Festival featured several inspiring up-and-coming independent filmmakers from my home borough. Hannah Leshaw was amongst the lineup of filmmakers showcasing her first short film, "Fictional Me, Fictional You". While I have an undying affinity for filmmakers because of their abstract vision to compliment a writer's words – Leeshaw proves that as writer, director, and editor, her first attempt at storytelling is nothing short of a strong one.
Q: What part of the Bronx are you from?
A: I'm from the Melrose section of the South Bronx, which is a little bit east of Yankee Stadium. I've lived here for almost seven years, since moving up from the village.
Q: Describe what being a filmmaker entails. How did you get into film?
A: I took a circuitous route into filmmaking. I was an unhappy attorney for a number of years before the stars aligned and I was able to pursue my first love: writing. I spent a couple years writing in a variety of mediums including screenplays and then – because I wanted to make the films myself – started to study filmmaking.
For me, being a filmmaker is about a great story and a great team. I know I still have a lot to learn but I believe that if I have those two things in place the film will be worth watching.
Q: Tell us about "Fictional Me, Fictional You". What was the inspiration behind that?
A: I'm interested in the often stark dichotomy between what goes on in a person's mind and the "reality." I'm also interested in the different ways that people escape from unhappy or mundane lives. "Fictional Me, Fictional You" explores both of those ideas through an isolated and lonely character who gets to be a different version of himself in his daydreams.
Although "Fictional Me, Fictional You" features a gay, interracial pairing neither of those characteristics were intentional. The script was originally written about a racially undefined hetero couple but I wanted to use these two particular actors so we changed it. We had to make very few adjustments to go from het to gay and they mostly involved minor wording. The switch worked well here because this story is really just about a person who feels lonely and everyone – regardless of sexual orientation or race – has been that person.
Q: Do you feel that there are enough outlets in the Bronx for filmmaking? What challenges do you think artists face when they are marketing themselves or their products as "Made in the Bronx"?
A: I think the challenge of being a Bronx filmmaker mostly has to do with the perception that others have of the borough. We are often ignored except to depict us as a hyper-urbanized environment filled only with graffiti, crime and hip-hop and so the assumption is that a "Bronx film" will incorporate those elements. We do have graffiti, crime and hip hop to be sure but we are so much more than that. We have an incredibly varied population and landscape with many different kinds of expression.
There are a good number of Bronx organizations helping to support and connect artists. One of them is a group we started last year – The Bronx Filmmakers – that meets on Tuesday evenings at the Bronx Documentary Center. We give each other feedback on films and scripts and generally bounce ideas around. It's been great to connect with so many Bronx filmmakers.
Q: Being an up and coming filmmaker, what advice do you have for those looking to enter the same industry?
A: I would say that the best way to learn, and to be taken seriously, is to always try to do things "correctly" – even when working on a no-budget short. The industry has a very specific way of operating and if you learn those logistics, those interactions, on your smaller projects by the time you're ready to make your feature it will all be second nature. At least that's what I'm hoping!
Q: Any final words for the Uptown Collective's readers.
A: If you love the arts support local artists! There are a good number of film festivals, art exhibits, live performances and readings in the Bronx. They're great opportunities to see interesting work and meet new people. In addition to winning Best Gay and Lesbian Film at the 9th Annual NYC Downtown Short Film Festival we have also been selected for the Action on Film International Film Festival in California (AOF) and are being shown at a Pride film night in the East Village.
Check out the short student film, Out, by Hannah Leshaw starring Tito Livas and Michael D.
Find out more about Bronx contributor, Jenni Ruiza, at http://www.jenniruiza.com/. Follow her on Twitter @RuizaJenni.
Related:
The Best of the Boogie Down: Artist Spotlight – Ohene Cornelius
The Best of the Boogie Down: Ceetay
The Best of the Boogie Down: The Kingsbridge National Ice Center (KNIC)
The Best of the Boogie Down: Artist Spotlight – Sofia Rodriguez
The Best of the Boogie Down: Artist Spotlight – Hezues R
The Best of the Boogie Down: Artist Spotlight – Christopher Estrada
The Best of the Boogie Down: Tosca Café
The Best of the Boogie Down: The Bronx Documentary Center
The Best of the Boogie Down: The Bronx Beer Hall
The Best of the Boogie Down: Artist Spotlight – Jesenia
The Best of the Boogie Down: Raine Lounge
Introducing The Best of the Boogie Down
We invite you to subscribe to the Uptown Love newsletter, like our Facebook page and follow us on Twitter, or e-mail us at [email protected].