BY Led Black (@Led_Black)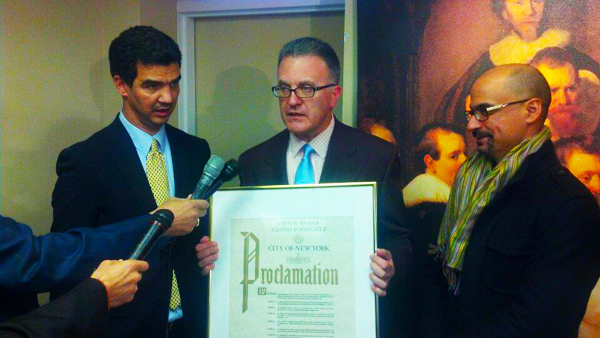 Pulitzer Prize winning Author, Junot Diaz, was in the neighborhood yesterday to spread a little literary love. Junot Diaz teamed up with the office of Council Member Ydanis Rodriguez and Dr. Eduardo Pignanelli of the Amsterdam Medical Practice for the book signing and giveaway of 200 copies of his work. The event was also held to honor Junot for his continued excellence in portraying and rendering the Dominican-American experience with nuance and to such critical acclaim.
"Having someone like Junot Diaz-who captures the Dominican immigrant experience better than any author around-come to our community and graciously give away copies of his latest award winning book is truly a momentous occasion, said Council Member Ydanis Rodriguez. I am grateful to Dr. Pignanelli, who paid for the books, helped put this together and offered space at his own small business in our community, and of course to my good friend Junot whose generosity in taking the time to come here today and promote exploration through reading. I hope everyone here today finishes this book and then goes on to read hundreds more!"
The award is much deserved as Junot has helped the little local bookstore that could, Word Up Books, on several occasions. Through his advocacy Junot has been a positive force in the propelling forward of the arts, culture and the written word in this community.
Related:
The Platano Index: A Q&A With Junot Diaz
A Night Uptown With Junot Diaz
Junot Diaz Wishes Word Up Books A Happy Birthday!
We invite you to subscribe to the Uptown Love newsletter, like our Facebook page and follow us on Twitter, or e-mail us at UptownCollective@gmail.com.