BY Sara Martinez (@Saritology)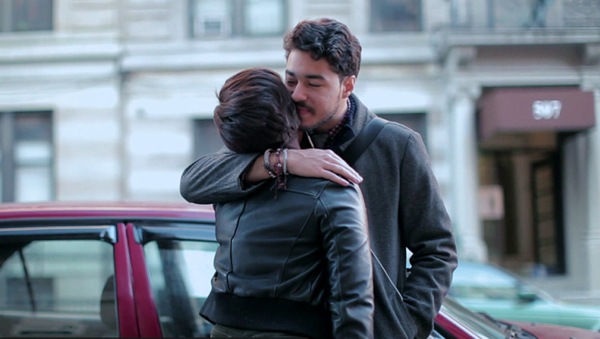 Now it's time to say goodbye to the gang. This week was the season finale of MTV's Washington Heights, and if you're anything like me, you're a little sad. Maybe you watched it on your sofa, with your Snuggie, sipping chamomile tea, wondering where the time went. Seems like it was just yesterday that America, nay, The WORLD, was introduced to this motley crew of young, New Yorkers, with big dreams, and a low budget. So much has happened since we met these youngsters. This is a story, of seven friends, who choose to be together, through their ups, and downs.
Who are these kids? Everyone thought, including myself. Why are they representing Washington Heights? I'm from the Heights too! I have a "started from the bottom, now we here" story! Why wasn't I tapped for this show? Then when they were on camera I realized why: My age is too damn high! Not that I'm old. I'm in better shape than you. You're zombie food, me? I'm Michonne, maybe a little Daryl. Point is. I look good. (You hear that Rico?) But this show wasn't about me, or my Washington Heights, it wasn't even about the Heights. The neighborhood that brought these kids together, where their lives were centered, where they're from, and where they live, but not where they will be. These young folk, with their young folk drama, and their young folk dreams, these were special kids. Small, yellow school bus special. I kid, I kid!
The narrator, the center friend, the Carrie of the group–to speak in television terms, is JP, aka Audubon, aka Dominicano Drake, the singer, rapper, advice guru, creator of the show. At 26 years-old dude, still living at home, with the supportive mother who never missed a big show, (and made sure he was always wearing clean clothes), was chasing his dream of fame. Wanting to be heard on a bigger scale, he hired a half-assed manager. All T, all shade, you were super wack Danny. Let's talk about those gigs; they were unpaid, featuring a stripper with some sort of creature in his undies. You had the wrong time, so you showed up late, preventing him from performing. Another was in Queens, where the equipment didn't work for his CD, but it worked for others. Updated software or not, these are things you should anticipate. Dropping the ball on getting music to Riggs, almost dropping the ball with J. Erving. Had Audubon not taken it into his own hands, he would not have gotten that tour. So in the end, his dreams were starting to come true, and it was nice to see that his semi-hard work, was starting to pay off. Maybe now he can start to pay some bills around that house! Take Arlene on a date where you don't go dutch… that'll get you laid fo' sho!
One of the most difficult stories to sit through without tears belonged to Chompy, aka Mr. Baseball, bka Jimmy. With a father currently serving a sentence, a mother recently having completed her bid, a loving grandmother who he couldn't live with because of drama they didn't elaborate on, as well an ex-girlfriend who was willing to support him while he lived out his dreams. He got to a point where the struggle was too real for his young life, and he had to make a choice: deal with the drama or do something completely selfish, and remove himself from everyone and pursue his dreams. One of the most difficult things you can do, especially when the drama comes from your family, is to remove yourself from it. He got a lot of shit about being a dick to Eliza, I know I was mad, but in the end, he did what was best for him. And that's a hard lesson to learn. They say you can never go home again, whoever said that shit isn't from the Heights. You can always come back home when you're from Washington Heights.
Rico, and his sexy hair, is finally getting paid acting gigs by acting like… himself? He just needs to take some speech classes to lose that Washington Heights accent, and he'll be on his way to getting them panties wet all over the United States. He went from not trying to find a job, to fighting with Fred, who got him those acting classes, to wearing a jean vest, and kicking game… and getting paid. He also lost that weight that you can't have on camera, but looks fine in real life. He's still a PYT in my book.
Fred, Rico's brother, the tall skinny dude with the big ears – was one of the few who had a job, he spent his summer hustling. Working with a designer in Brooklyn. He called Rico out on his bullshit. We met his girlfriend once, who might be a beard… only time will tell. Our little Fred impressed the designer he worked with the portfolio he submitted to FIT with his application, and he got in! His dreams are coming true! He's on his way to being a fashion designer; maybe he'll stop wearing white tee's, and start wearing bow ties, and funky glasses. Either way, congrats to you Oreja! Now, where will Ludwin turn to for advice that he'll just ignore?
The most Personal Growth in a Reality Show Award goes to… Reyna! From fist fighting in the first episode, to having a huge fall out with her sister, to recording a single, to having a breakthrough conversation with her dad, to admitting her bad taste in wine–homegirl with the Dominican blonde hair got herself a job! Seeking independence, where she can continue to be with her boyfriend, but in a place where she can continue to grow. Making a decision on that level isn't one that I would have thought her capable of in January. She seemed rough, angry, and immature. But as the season progressed she grew, and became one of the more likable casts members. By the last episode, she was in such a good place. Her voice still makes dogs howl, but she's cool in my book.
Thrift store enthusiast, and artist Ludwin, went from being a dude without a GED, a girlfriend who lurked in the shadows, a brother who seemed to have bigger problems than jumping his sentencing hearing (did anyone else think homie had a drug problem?). Ludwin grows a fancy mustache, gets his GED. Then homie gets rid of the dead weight, who later came back to hate on Frankie, but it didn't amount to much. I guess she never got that Alanis Morissette CD I sent her. He got into a thing that wasn't a thing but maybe was a thing but it was definitely something if you asked a certain someone. He had an art show where he showed off his obsession with Jesus Cristo, and in the end decided to move to Boston to live in a commune with Harry, his artist friend. Which is awesome right? Except that he held off on telling Frankie he was going until he was actually getting on the train to go, despite advice from Fred.
The white girl with the Spanish accent, the one people referred to as the boring one, was one of my favorites. The voice of reason, with a shoulder for everyone. Taylor was the stable friend. The one who will lend her friends money while they're out pursuing their dreams, and she's working a 9-to-5. She always had the best sneakers. She was the friend everyone could turn to. While she didn't have drama, she was put in the middle of the Frankie and Ludwin friends with benefits/lovers/just are thing. And she handled it well, and while I still can't understand why she's as nasal sounding as I am, I can say she's got a nice ass.
Which brings me to America's newest sweetheart, the little lady who greets everyone with "you look so beautiful!" JP's clothes twin. The chick that convinced me to buy this plum lipstick that looks so doooope on me. In this last episode she celebrates her 21st birthday at a costume party in Harlem World! What I wouldn't give… ah, who am I kidding? I never want to be 21 again! Glad I survived it, never want to revisit. But good for her! Reciting a new poem in front of a live audience, she tells us about her "friendship on fire." I wonder whom she was talking about? No. No I don't. She spoke to Taylor and Reyna, and said something about her sexual life with Ludwin that was cut out. But I think we can all imagine what she said. I mean, it's pretty obvious that he likes to stick his doughnut in her coffee. That's what she said right? Or am I thinking about doughnuts again? But I digress, at the very end of the episode Ludwin goes to see our girl Frankie, and he hits her with the news. You can see the sadness in her eyes, and women all across Twitter started sending Ludwin angry messages. But honestly, he probably should have been upfront with her about it as soon as he made the decision to leave, but besides that, he was still going. So what's the point of the long, drawn out goodbyes? It's like those people on Facebook that talk about shutting down their page, just go already! When you're getting that Brazilian wax, you don't want her to take her time when she's pulling that strip, you want it fast, it's still going to hurt, it's still gonna be swollen and out of commission for a day, but it bounces back. Just like Frankie, she'll be ok, so save your hatred for the real guy who broke your heart. That stupid, con artist with the crooked bottom teeth. Yeah, I'm talking to you assface. Ugh, again with the digressing.
In the end, these kids introduced America to a small enclave of Manhattan that no one had heard about previously. They let us into their struggles. We liked their styles. We felt their heartbreak, we got high on their love. We laughed, we cried. We appreciated our friends more. You all got glimpses into the typical Washington Heights home, complete with French Provincial furniture wrapped in plastic, a Dominican cake, and a hot Dominican mom. You met Pancho Manguera, and isn't your life better for it? You know it is. I'm not sure what the future holds for these kids, but I hope it's full of success. I also hope Frankie writes that poem about how much Con Ed can suck it!
Click here for the rest of the pics of the Audubon Listening Party @ Negro Claro Courtesy of our very own Emil Baez.
Check out:
MTV's 'Washington Heights' – The Weekly Breakdown: Episode 10
MTV's 'Washington Heights' – The Weekly Breakdown: Episode 9
MTV's 'Washington Heights' – The Weekly Breakdown: Episodes 7 & 8
MTV's 'Washington Heights' – The Weekly Breakdown: Episode 6
MTV's 'Washington Heights' – The Weekly Breakdown: Episode 5
MTV's 'Washington Heights' – The Weekly Breakdown: Episode 4
MTV's 'Washington Heights' – The Weekly Breakdown: Episode 3
MTV's 'Washington Heights' – The Weekly Breakdown: Episodes 1 & 2
We invite you to subscribe to the weekly Uptown Love newsletter, like our Facebook page and follow us on Twitter & Instagram or e-mail us at [email protected].