BY Sara Martinez (@Saritology)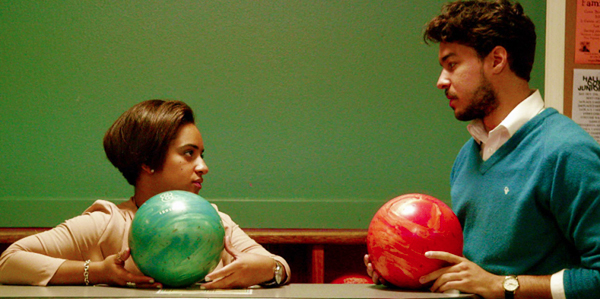 This week MTV moved Washington Heights to it's new Latino time at 11pm. This could be for a few, business related, reasons. But I prefer to believe that it's because that tall, dark, and handsome papi chulo, Rico, looks even better later in the night. If that's the case, next week's episode will be held in a hot tub. Watch out now! Speaking of Rico, this episode opens with his expert tips on modeling for Taylor's modeling debut. Including master tips such as making faces in the mirror. If that's considered modeling experience then I might be a pro. You should see my "watch out for that shark!" look. Oscar worthy.
JP introduces America to his Twinkle Toes Fred Flintstone love of bowling. Big Lebowski style, Frankie bowls a strike, but forgets to wear a robe. While Frankie is playing around with different balls, feeling for the right one, Ludwin takes the opportunity to interrogate her about the big-headed dude she exchanged numbers with at JP's party. Ludwin is jealous but seems reluctant to articulate or elaborate on his feelings because of what it will inevitably lead to – The Talk. He has stated on several occasions that he was not about that relationship life. He tells Frankie he doesn't want her to date ol' dude, but doesn't want to man up either. It's a classic case of stringing along. It happens to the best of us. But she tells him she's interested in dating that dude with the fucked up name, and walks away.
Eliza and Taylor meet at Corcho Wine, on Dyckman to catch up. But Taylor has midterms. Ok, no, I'm putting my foot down! She needs to put other people's problems on the back burner, don't nobody got time to be failing Macro Economics. Take your ass back to your dorm and get to studying.
At The Brother's Bachelor Den of Love, Audubon opens up about his feelings of inadequacy brought about by Riggs calling him vago.  He feels bummed because Riggs won't return his calls. Welcome to the world of dating, the music industry. But no worries because Danny is starting to put in work, and got little homie a gig at a college, dique, outside of NYC.
On a park bench, Lud is not happy about that big-headed dude who was talking to Frankie. Rico's pretty little self is confused, what the hell was going on between Frankie and Ludwin if she's talking to other guys? That's a good question. The answer is NOBODY KNOWS! Reyna breaks it down for him, and we hear again, that Lud isn't looking for anything more than what it is: friends with benefits.
Then you all get a little peek at a Washington Heights house party! Complete with a mohawk, Reyna's sexy mom dancing it up and a Dominican cake! If you don't know what Domincan cake is then you're doing it all wrong. I'm going to a baby shower this weekend. I'll take a picture of the cake. Then Rico has his first improv show, and the gang goes to support. I seriously love when they all surround him taking selfies and acting up. If I saw Rico I would do the same, except one hand would take a selfie, the other would be pulling his hair. Look, men my age rarely have hair. I'm obsessed with hair. Leave me alone.
Frankie gets stood up by that dude with the stupid name, Kelvis. Is it Kelvin? Is it Elvis? It's dumb. And Stupid Named Guy has the nerve, the gall, to stand up Frankie! With his abnormally large head, that's why he kept that hat on the whole time at JP's house, which is rude by the way! Don't even get me started on how much cuter she is than you. But she's not even phased, because she's dope like that, she just laughs it off with Reyna and Taylor later at Darling Coffee.
Taylor killed it with the modeling. White girl got a nice little tush on her. That's how you know she's got Dominican friends, it grew by osmosis. The Friends with Dreams, as a friend of mine refers to them as, has a rousing game of co-ed football, where Ludwin wears shorts that he obviously bought at the thrift store. I only see shorts that short in those classic games they show on the sports channels that I see whenever I sit on my remote and my ass changes the channel. It's either some ESPN thing or a Bollywood movie. My ass has eclectic tastes in TV. Reyna goes up to Eliza and it's the battle of the annoying voices! Reyna's fast-talking, high-pitched, nasal squeal apologizes to Eliza for the fight they had in the first episode. She would like to move on from it. Eliza's slow-crawling, few words talking style says it's cool. And just like that, the beef is squashed. That's how it's done when you're an adult. I was golf clapping at this scene. It was big.
Audubon shows up to his gig, on time, at the College of Mount St. Vincent. Which isn't in Washington Heights, 'tis true, but it is accessible by public transportation. But I'm not going to hate, the crowd loved him, the dance club turned into booty girls and Audubon was living #thatlife. And he got paid! You go boy!
Reyna sees her dad and they have a heart to heart. First he looks uncomfortable. We all know dads don't like to show feelings. Or do they? I wouldn't know – my dad showed lots of emotion on visiting day. (Oh snap did she just go there? Oh yeah I did!) But dad or no dad, it was a really touching moment and I really feel like Reyna is the clear winner in this week's episode. She's shown a lot of growth during a small amount of time. Keep doing your thing girl! We're rooting for you!
Jimmy is hitting some balls at the bathing cage, and I think we can all agree, that he should've done so shirtless. If I have to look at your face, I'd rather have something else to ease the blow.  Rico, gets a call back on his iPhone! Oh snap! Jimmy is moving back down to Florida to focus on baseball and school. They're so excited about where their lives are headed. And they should be. The Friends with Dreams are working at making them happen, it's exciting to be in a place where what you're working for is starting to be realized.
Ludwin & Frankie, sit on a stoop and she initiates the talk. Ludwin elaborates on the fact that they're friends. She's being honest with him about what she wants, Ludwin is all about how he doesn't want to be in a relationship, he doesn't want to ruin the friendship. Blah blah blah. They decide that they want to focus on themselves right now, which is a good idea. I just hope Frankie doesn't allow the sort of, kind of, prospect of a relationship with Ludwin prevent her from meeting someone worthwhile. I think a lot of people had Reyna's expression when Frankie tried to explain that their relationship status is "is". Um. What?
In the end we got a preview of Dominican Daria flipping Frankie the bird. Drama! Will Diana confront Frankie about having a thing that "is" with Ludwin after they broke up? Will Frankie just be all like "fuck this shit" and get on OKCupid and meet a bunch of weirdos then go "fuck this shit" and date the boys at school? Will Rico lose those 15 lbs he needs to lose in order to be hotter? Will Fred get some more air time next week? How many squats does Taylor do a day? She's got a cute little ass! We'll have to wait to find out!
Check out:
MTV's 'Washington Heights' – The Weekly Breakdown: Episodes 7 & 8
MTV's 'Washington Heights' – The Weekly Breakdown: Episode 6
MTV's 'Washington Heights' – The Weekly Breakdown: Episode 5
MTV's 'Washington Heights' – The Weekly Breakdown: Episode 4
MTV's 'Washington Heights' – The Weekly Breakdown: Episode 3
MTV's 'Washington Heights' – The Weekly Breakdown: Episodes 1 & 2
Related:
Audubon of MTV's Washington Heights Featured In The New York Times
MTV's 'Washington Heights' – A Historian's Perspective
MTV's 'Washington Heights' – The Review
DJ Envy Gets A 'Washington Heights' Makeover | MTV
MTV's 'Washington Heights' – The After-Party
Go Behind-The-Scenes At The 'Washington Heights' Photo Shoot
We invite you to subscribe to the Uptown Love newsletter, like our Facebook page and follow us on Twitter, or e-mail us at [email protected].