BY Jenni Ruiza (@RuizaJenni)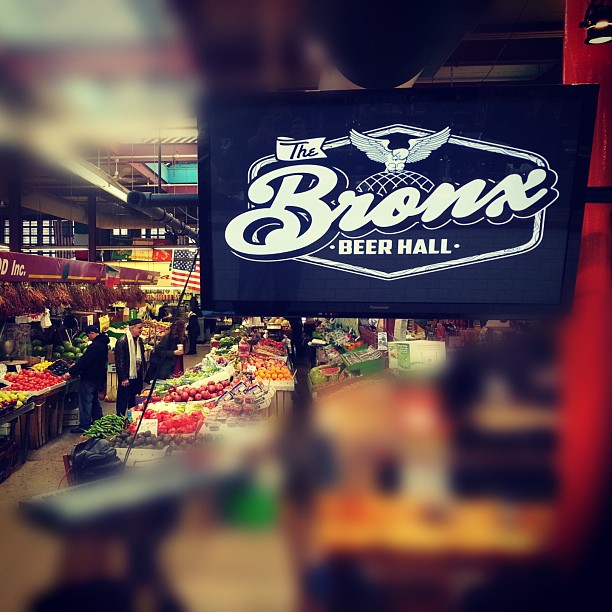 A glass breaks – everyone cheers. Immediately, you're exposed to the fun and relaxed atmosphere as soon as you walk in. The place is packed to the brim, making it a very successful opening day. The patrons at the bar graciously squeeze in, giving way to find space at the bar to order your Jonas Bronck brew. After a few minutes, you may just become a regular – and that is fully the intention of The Bronx Beer Hall owners, Anthony and Paul Ramirez. At the opening of The Bronx Beer Hall, I was immediately won over – it reminded me like something right out of the set of "Cheers". But, my true distraction? Besides the amazing assortment of beer (and wine for those who have a different fancy) – I was stopped in my tracks by the food. Mounds of cheese and meat all across the different tables. It was pure heaven for a fat-kid-at-heart like me. Anyone who visits The Bronx Beer Hall is truly in for a treat; not only are you surrounded by the defining history of Arthur Avenue, but you are in the presence of two young, intelligent, and insanely hospitable entrepreneurs who are purely interested in making sure that your experience at their establishment is full of refreshing beer, delicious foods, and memorable laughs.
Anthony and Paul were kind enough to save a few moments to discuss The Bronx Beer Hall, their latest endeavor and what their hopes are with this venture.
Q. How would you describe opening day for The Bronx Beer Hall?
[Anthony] I can describe opening day at The Bronx Beer Hall in one word – overwhelming. We were overwhelmed by the incredible turnout (over 300 people!), the incredibly positive Bronx vibe and all of the positive things the crowd had to say about the space, the bar selection and our eclectic menu by Chef David Greco.
Q. Since the Beer Hall's opening on February 1st, what's been the most enjoyable experience?
[Paul] I want to say just across the board, the fact that we attract such a diverse audience and just watching kids from down the block to senators and congressmen is amazing. Watching everyone mingle despite their titles – their positions, mean nothing once you come in here. The whole sense of the Beer Hall is the spirit of community and that's the most fun. You'll find everyone singing along to whatever we have on. There's no classes, everyone is equal.
Q. Do you already have regulars?
[Anthony] We do! Believe it or not. We have people who come regularly already either during lunchtime or afterwork. And a couple of people who show up regularly on Saturdays. We were open a week prior for our soft opening, so you'll see some of the same faces come in on a Saturday afternoon.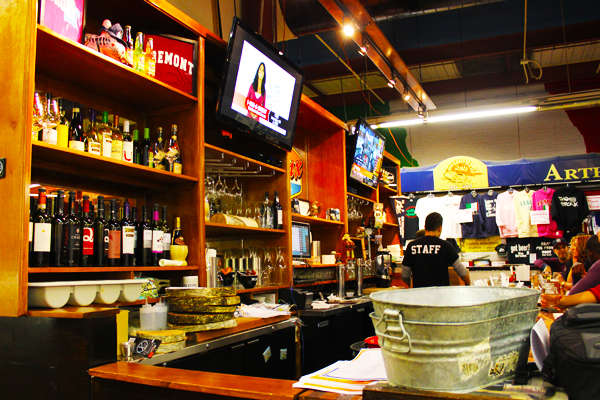 Q. What is like to work with your brother?
[Paul] It can be difficult because he's my older brother, so he expects the best of me. Anthony's my older brother, so he plays the tougher role but it's not micromanagement. It's the extra comment that makes you think and then set out what you want to do. We're both control freaks in some way, so he checks me and I check him. We know each other well and each other's behavior patterns. We know what to expect from one another and are harder on each other. But, it's the same thing we'd expect from our employees – the best.
Q. I read the idea for the Beer Hall came over a random casual night of beer (of course) with your brother and friends – why Arthur avenue instead of Parkchester? 
[Anthony] The idea for The Bronx Beer Hall came about during a beer tasting we held in The Arthur Avenue Retail Market during our from The Bronx Holiday Pop-Up Shop in December 2011. After letting customers sample some Bronx brew (and sampling a few ourselves) my brother said "We should open a beer hall here!" The next day we all looked at each and said "Hey, you know what, we SHOULD open a beer hall here." We chose the retail market because of the history of the building and uniqueness of the space. Who wouldn't want to grab a beer before (or after) you buy your produce, eat a pastry or grab some cigars? We had a terrific time during our pop-up shop and established great friendships and partnerships while we were there. Our partner and chef, David Greco owns Mike's Deli, which adds a kitchen and celebrity chef to the beer hall's offering of beers and wines. Finally, the location receives a lot of foot traffic from locals and tourists. It just made sense for the market to be our first permanent location.
Q. What do you hope the Bronx Beer Hall will bring to the community?
[Anthony] The Bronx Beer Hall, much like our other Bronx ventures, is designed to give Bronxites a place to come together and spend time with one another. It's as much of a community space as a city park or a local community center. To borrow from Cheers, we want the beer hall to be a place "where everybody knows your name and they're always glad you came."
Q. How did you come up with the amazing menu and selection of food the Bronx Beer Hall offers? Was this a collaborative with Dave Greco?
[Anthony] The Beer Hall's menu is designed by Chef David Greco and is as diverse as the Bronx itself. We offer everything from Korean Pulled Pork Salad to Crispy Fried Calf Brains and of course pasta dishes. What would a bar in Little Italy be without pasta dishes? 🙂
Q. Have you tried every item on the menu? 
[Anthony] Definitely have. You have to – I can't sell it without tasting it. I don't eat pork (No particular reason), but there are a few pork dishes on the menu so I had to try those. I can't serve anything without trying it first and making sure that it tastes good.
Q. What's your personal favorite dish? 
[Anthony] I actually have a few. I really like the turkey sliders, with sweet potato fries. I like the Bronx Cheesesteak – it's heartier and a thicker cut of meat – You get a really hearty sandwich. There's also Rappers' Delight, but then I realized I was allergic to avocado. It took me many, many tries to realize that's what I was allergic to.
Q. Do you have a choice brew that you prefer after hours?
[Anthony] I really like the Woodlawn Weiss, which is a light beer and Kegan's Mother's Milk Stout. The stout is a heavier beer, sort of like Guinness but it's way better. It has a little espresso, chocolatey aftertaste.
Q. Can patrons expect to see any items from your other business venture, FromTheBronx.com incorporated into The Bronx Beer Hall?
[Paul] Definitely! We're already selling stickers, pins, and t-shirts. We're just trying to figure out where to put them and plan better in terms of inventory. But, you can find postcards, mugs, and other select merchandise from our partnership, FromTheBronx.com around the hall.
Q. Have you or Anthony been getting recognized now that you're more in the public eye?
[Paul] We have been. They're always like whether they met us, see us in a newspaper: "you're one of the brothers that does this!" Some people remember our names or if they recognize our faces, they'll grab either me or my brother and they want to take pictures and tag us in Facebook. So, who are we to deny fans?
Q. Is there anything else you want Uptown Collective and its readers to know about you?
[Anthony] I can't think of anything at the moment, but I'll answer any questions. I'm an open book. Come on by the beer hall and ask me! 🙂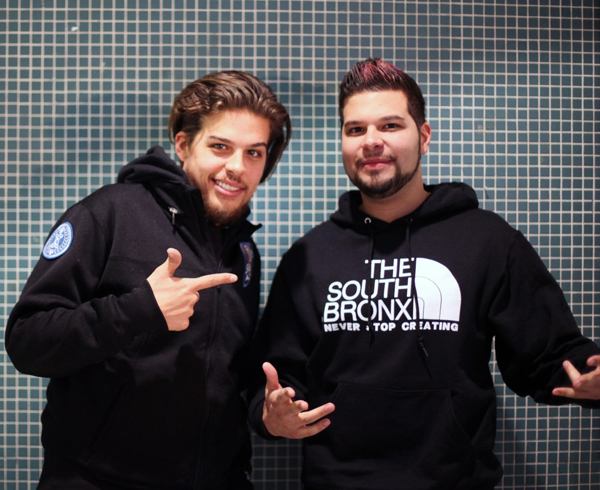 The Bronx Beer Hall is located on 2344 Arthur Avenue. For more information, visit www.TheBronxBeerHall.com and like their Facebook page: www.facebook.com/BronxBeerHall
Find out more about Bronx contributor, Jenni Ruiza, at http://www.jenniruiza.com/. Follow her on Twitter @RuizaJenni.
We invite you to subscribe to the Uptown Love newsletter, like our Facebook page and follow us on Twitter, or e-mail us at UptownCollective@gmail.com.