BY Sara Martinez (@Saritology)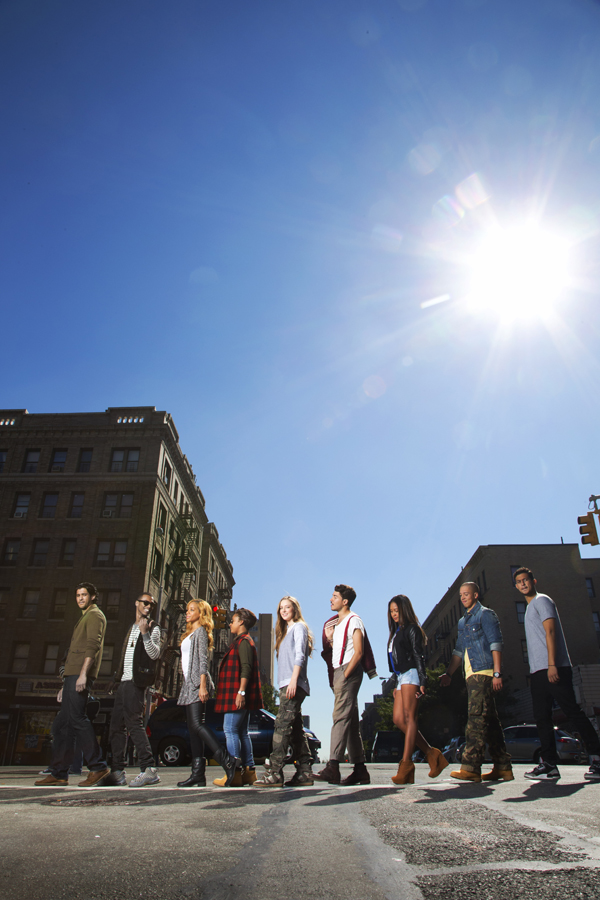 The beginning of this week's show answered one of my questions, with Alexis getting arrested. It was all fun, and games when I wrote about it, but seeing Ludwin on the phone, hearing his mother's response, made me feel sad. Not so much for Alexis, even though he's young, he committed the crime, and knew the stakes involved. However, when you do time, your family does time as well, keep that in mind the next time you want to do something illegal kids. Ludwin and family are the ones that have to deal with the heartbreak, they're the ones that have to get on that crazy van to get to Rikers Island where I once saw an old lady push a pregnant girl out of her way just to get into the van! And when I went to say something my mother told me to shut up, they'd probably do worse to me, and I'm bookish, I would probably be pummeled. I just hope Ludwin and his hipster, handlebar mustache, are strong enough to visit and support Alexis. The more support he feels from his family, maybe the better he'll be when he comes home? But Ludwin's mustache is right, sometimes, when you go to jail it can be a "crime school. [you go] in with a Bachelor of marijuana, [and come] out with a Doctorate of cocaine." 1  But he can also come out with a GED, and a will to do better. Let's keep hope alive!
Meanwhile, Barbara, JP's mom, is like, it's time for you to get your ass to C-Town and stock those shelves and pay this Con Ed bill, or something like that. So Audubon's2 manager comes through with a gig at Ibiza's. Everyone is turnt up, Eliza is there with Jimmy (how are those two crazy kids doing? They need some air time please!), so is Fred and his ears, Lud's mustachio made an appearance and no party would be complete without Rico's hair. Who else is there? A masked stripper who is in desperate need of yoga. He was so stiff! Was that supposed to be gyrating? They have videos on how to twerk on YouTube, learn something! After I stopped laughing and social media's explosion of "oh wows," the party was all the way turnt down. Then Audubon still performed, had a great show, and he didn't get paid. Those are the breaks, these are the things that happen, but Audubon handles it well. If it were me, I'd act like a rockstar at a hotel. I'd start flipping couches! I'd kick over someone's hookah. I'd take the mic and do something Kanye West would do. Maybe I'd behave like famous part-time Washington Heights resident, Laurence Fishburne, did when he played Ike Turner. Or I might challenge the promoter to a duel, do you think Aaron Burr got to slap Alexander Hamilton in the face with a pair of gloves? I'd like to do that too. But I'm irrational, angry, and immature sometimes.
While Lud is giving us his story on how a DJ skateboard saved his life, and Rico is picking the scab on his knee. Shirtless. Thank you. Reyna is getting ready to head to La Marina to celebrate her sister's birthday. Reyna's loverboy, Manny, couldn't make it to the celebration, so he missed out on hookah, Frankie licking her lips at Lud's chest hair, and Rico sitting on a chair, with that hair. Those luxurious locks. I just want to run my fingers through his hair, once. Just once. Then I want to grab it. Just once. Reyna's sister, what's her name? Well her, she has a problem with Manny's absence, Reyna tells her to discuss her problem with him. They then begin to argue at a decibel level that made my ears ring. Dogs started howling. Jaws were tingling all over the USA. I'm not sure what they said, as it was indecipherable to humans, but Reyna's mom came on the scene looking all sexy! Bowchicabowwow! Mom set Reyna straight. Because that's what mom's do. JP's advice? There is too much estrogen in the crib. Yeah. What he meant to say is that a household of three strong, outspoken women, can be a challenging, especially when you are at an age where you are seeking independence, are discovering who you are, and feel the need to assert yourself into everything, which leads to arguments. The best way would be to remove yourself from the situation, which is what Reyna does, after her boyfriend asks her to move in with him. Distance makes the heart grow fonder in many cases, just not in my case, my little sister she still hates me.
JP finally gets a paid gig that comes through! Now he has to go to a check cashing spot and send that money to Con Ed, the energy monopoly in NYC that just takes and takes and takes until you ain't got no mo' to give! I remember my mom running behind us turning off lights yelling "what do you think I'm sleeping with Con Edison?" and I never understood her until I lived on my own. Hey Frankie, here's the title to an angry poem you can write "Fuck you Con Ed." He takes his mom to lunch and gives her money, she cries. She such a supportive lady, she explains to him that she has to push him to make him great. Reminds me of an old internet meme about how pressure on coals makes diamonds.
JP, and Fred accompany Ludwin to his brother's sentencing hearing. They're a really tight knit group of friends. I wouldn't go to the courthouse because there are too many vagabonds and undesirables. Plus, once I went to the courthouse to pick up my cousin, who was arrested for fighting and there was a woman whose foot was in the advanced stages of gangrene. The court house smelled like rotting flesh. After the sentencing they're sitting on benches and Ludwin hangs up his flip phone, they begin talking about Alexis. JP uses the term "loco." Which was translated to mean "crazy." Which is the literal translation, but in this case it was used as the Dominican slang term, which means more like homie, or bro. It's important that the rest of the country understand these small distinctions in vernacular, or things will get misunderstood. Check out Dominicanese 101 for a primer on the lingua franca of the show.
On the opposite end of Manhattan island, Frankie goes with Taylor to some dude's apartment to get Ludwin a new skateboard. Apartments are the secret lair of retail in Washington Heights, there used to be a guy who sold dresses out of his apartment, most of my friends got their prom dresses from him. I think he has a storefront now, I should go visit him. He had fancy dresses too. Matter fact, forget I said anything, I don't want to get him into trouble! Afterwards, she visits Lud, by using the Washington Heights Direct Line (WHDL): yelling "LUDWIN" out the window. He comes down with the stank face, which lights up when he sees his gift. Later, Fred uses the WHDL for Lud, who throws a snack out the window. Now that's what I call service!
This was a good episode, and brought up so many questions! For instance, Mr. Masked Stripper was that an anaconda in your silver pants or are you just happy to be on TV? And why did it take five episodes before we saw some hookah? Don't you know Washington Heights is Hooked on Hookah? Why is my energy bill so damn high?! When is the gang going to a babyshower/1st birthday party/quinceañera? I'm at one of these types of parties at least every other month, you can't tell me none of these kids has a cousin, or sister, or brother celebrating a baptism.
Footnotes:
1. 10 points if you know where that quote is from!
2. He's JP when he's with his mom and friends, but Audubon when I'm talking about him as an artist, maybe he has a split personality.
Check out:
MTV's 'Washington Heights' – The Weekly Breakdown: Episode 4
MTV's 'Washington Heights' – The Weekly Breakdown: Episode 3
MTV's 'Washington Heights' – The Weekly Breakdown: Episodes 1 & 2
Related:
Audubon of MTV's Washington Heights Featured In The New York Times
MTV's 'Washington Heights' – A Historian's Perspective
MTV's 'Washington Heights' – The Review
DJ Envy Gets A 'Washington Heights' Makeover | MTV
MTV's 'Washington Heights' – The After-Party
Go Behind-The-Scenes At The 'Washington Heights' Photo Shoot
We invite you to subscribe to the Uptown Love newsletter, like our Facebook page and follow us on Twitter, or e-mail us at [email protected].