Story & photos by Angela Bao Bei Bei (@AngelaBaoBeiBei)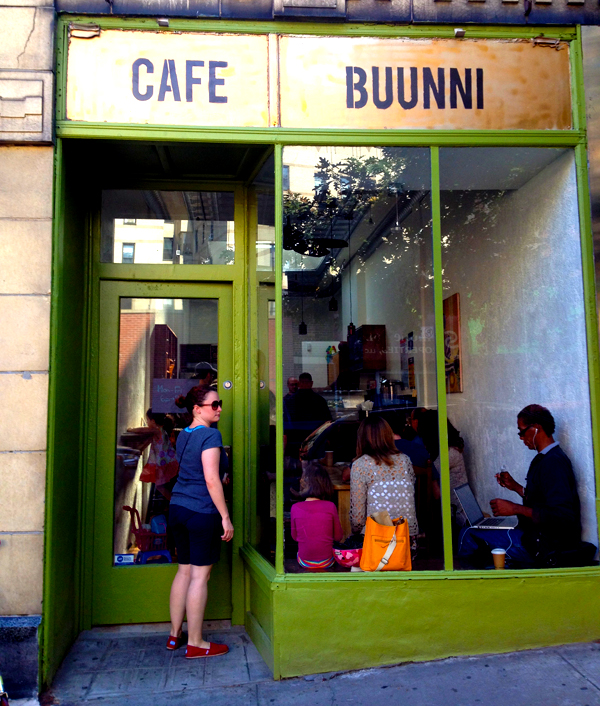 On a recent Saturday afternoon, the late-autumn sunshine heated this changing neighborhood along the Hudson River. The air just off 187th Street smelled of autumn leaves, damp earth and bus exhaust. But whenever the door to the new café swung open – and it opened often – the aroma of coffee slapped the air.
The 400-square-foot place was almost full: five people were on the checkout line; five were sharing a community table; two were sipping coffee at a built-in window seat; and two, on chairs against the wall, were checking mobile phones. Though Café Buunni opened merely one month ago, it already serves about 300 customers a day.
The Ethiopian-rooted coffee house is one of the latest signs of the neighborhood's gentrification. Buunni took over the storefront after the shoe repair shop that had been there for 30 years closed in February after a spike in rent. The café's arrival has been wildly welcomed by the neighborhood's newer inhabitants: fairly affluent residents who have yearned for a cozy social place for hanging out.
With delicate Ethiopian craftworks on exhibit, and premium chocolate, jam, and cocoa-butter-and-coconut-oil soaps for sale, Café Buunni is a real gem in the community.
"When I saw that this place has the Internet and everything, I was thrilled," said Deborah Chiel, 64, sitting under a painting of Ethiopia's coffee ceremony. Chiel, a writer, moved to Hudson Heights four years ago after the rent on her West End Avenue more than tripled over the course of 30 years.
Before Buunni opened, Chiel often walked 10 blocks north of her 190th Street apartment to Beans and Vines, a small restaurant in Inwood with no Internet access. Sometimes she ended up with an eatery closer to her home, but felt uncomfortable ordering only a cup of coffee and sitting for hours.
"I really was very frustrated," she said. "We really badly need pleasant places like this. There is really no alternative."
The nearest coffee shop to Buunni is a Starbucks on 181st Street and Fort Washington Avenue, and it is often stuffed with customers; only one other Starbucks is in the entire 2.8-square-mile neighborhood of Washington Heights and Inwood. Bodegas and Dunkin' Donuts in Manhattan's fourth-poorest community typically provide very limited seating, and none of the chic coffee options that more affluent residents want.
Over the last 10 years, as the local demographic began skewing toward urban professionals, a few "exceptionally good" restaurants have popped up in the neighborhood, said Jim Berlin, a former chairman of the neighborhood's community board.
Buunni's popularity far exceeded the expectations of the couple that founded it, Sarina Prabasi and Elias Gurmu. Prior to the Sept. 15th opening, the couple projected an operating loss for the first eight months. But now, with about 300 transactions a day and an average of $5 per order, Prabasi said the café will have brought in enough to cover their operating costs before the first month is even over.
"I think we found a niche," said a surprised Prabasi, 39, the daughter of a Nepali diplomat. "The specialty coffee and pastry are something that people want but didn't have access to."
Prabasi and Gurmu, also 39, did not open this store only out of business smarts: Eight years ago, when Prabasi worked for a water-safety nongovernmental organization in Addis Ababa in central Ethiopia, and Gurmu was managing a taxi company, they first met in their country's capital. During their outings, they always visited over a cup of macchiato. And then they fell in love.
"It's personal," said Prabasi, corners of her mouth and eyes all curved. "We put our heart into this place. It really reflects us."
Prabasi also thinks the international image of Ethiopia, a place she called her second home, is terrible. "Everybody always thinks about the starving children, but there are so many good things in that country," she said, adding that drinking coffee is one of those good things that she wanted to introduce to the rest of the world.
The couple wants the store to be welcoming to everyone. When customers asked them to sell non-sweet foods along with the sweets like caramel macaroon and chocolate croissant at the counter, they quickly began offering organic oatmeal. And when others requested meals, the owners added a small selection of smoked ham and cheese, mozzarella caprese, and prosciutto mozzarella caprese, varying from $6 – $8. Ten sandwiches sold the first day the couple offered them.
Still, Prabasi and Gurmu are not carefree.
They face a $3,000 monthly rent, nine part-time employees with hourly pay ranging from $9.50 to $11, and a presumably significant electricity and water bill – the first bill hasn't arrived yet, and who knows how many kilowatts that $7,000 Italian-made Nuova Simonelli coffee machine will eat up running from 6 a.m. to 7 p.m. daily?
Even before the operating costs began to build, the couple threw in $200,000 – all their personal savings plus a little borrowing – to renovate the place and purchase equipment. It may take one year to actually earn back the start-up investment, the couple estimated.
"In the first few weeks, people have curiosity," Prabasi said with a rare serious look on her face. "We are very happy about the response from the neighborhood, but it's not over. We need people to keep coming. We are still keeping fingers crossed."
Related:
An Ongoing Nightmare Finally Has a Glimmer of Hope
Donut Wars Rage in Washington Heights
Our Schools: Special Education In Focus
Child Care? Check the Waitlist First…
We invite you to subscribe to the Uptown Love newsletter, like our Facebook page and follow us on Twitter, or e-mail us at UptownCollective@gmail.com.