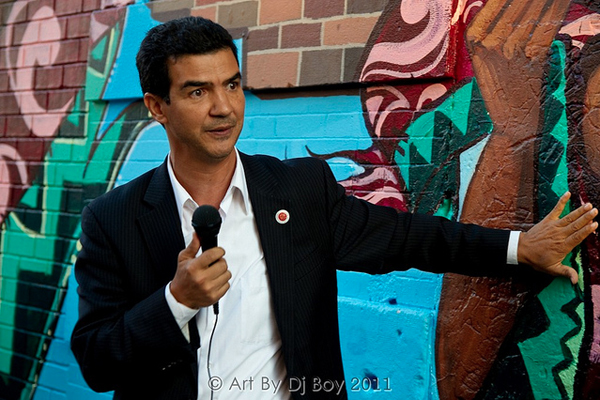 Hola mi gente!
I hope you all enjoyed the first post of my new blog, Ydanis Speaks, and got to know a little bit about me. If you would like to get in contact with me feel free to friend me on Facebook, follow me on Twitter or contact my office. I am always open to listening to new ideas and hearing about new opportunities and events around the neighborhood.
I would like to take this opportunity to discuss the issue of diversity in higher education, one of the most important issues that I work on and one that has an immediate impact on our community. This Friday, my committee, the New York City Council Committee on Higher Education will be holding a joint hearing with the Committee on Civil Rights, examining and assessing the efforts of private and public higher education institutions regarding the hiring of a more ethnically diverse administrative leadership and faculty.
The role of both the lower and higher education systems in this city should be to inspire the young minds of children of all races, ethnicities and creeds. To ensure this occurs, students must be shown that there are role models who share a common culture and heritage with them and that they are at the top of their academic field, worthy of praise and acclamation, ones who can connect on a deeper level than the teacher-pupil relationship. This is a vital aspect of education and one that is lacking in our city. If we are to see the children in our communities become future leaders they must see people who look, speak and think like them in influential positions, particularly in higher education. In order to achieve greatness, the students of this city must have educational faculties and administrators that are as equally diverse as themselves.
The importance of increasing the diversity in faculties and administrative leadership has many other benefits as well; it extends the breadth of scholarship in traditional disciplines and leads in developing new areas of study; and it allows for different perspectives from many different backgrounds and regions across the globe. There is altogether too little diversity to be found in our city's higher education institutions and while it has improved for some, there is more to be done.
Public universities in this city are the gateway to a better life for so many under-privileged youth in this city. It was a crucial resource to me and helped me to achieve all that I have. With such a strong enrollment of students of color, their faculty should be much more representative of the student body than it is. In 2010, the CUNY system was about 70% minority students, yet the percentage of minorities in the faculty was only 32%; and, unfortunately, this is one of the highest totals across the country.
In private schools, the issue is of even greater importance as a higher level of diversity in leadership positions would attract higher levels of diversity in the student body. Students would be drawn and motivated by intelligent college professors with shared experiences and backgrounds. Our private institutions retain some of the leading minds in their respective fields and produce cutting edge scholarship well respected by academics across the world. Providing this medium to members of groups historically underrepresented in academia would create a flourishing of new thought and perspective and would invigorate the students of these cultural backgrounds.
At Columbia University, the number of minority faculty members stands at 25.8% to be compared with the diversity of the student body, which stands at close to 50%. They have stated that they are doing a great deal to increase diversity amongst their faculty, allocating $30 million to assist recruitment efforts, yet the recent history of the last year and a half is troubling. Once lauded and praised for his stance on affirmative action and minority hiring, Chancellor Bollinger has come under scrutiny recently after three prominent minority members of the faculty resigned suddenly. Dean of the Fu Foundation School of Engineering, Dr. Feniosky Pena-Mora, Columbia College Dean Michelle Moody-Adams and Provost Claude M. Steele, all of whom were hired in 2009 by Dr. Bollinger, resigned. This has troubled other faculty members of color who have felt that race was an underlying issue in their resignations. This is certainly troubling when Columbia, the most prominent university in the city, has been pushing further and further into the West Harlem community, bringing with them rising rents, higher costs of living and gentrification. I would like to see Columbia make a true commitment to diversity and work on expanding the diversity at the top of their leadership, which they appeared to be doing well with until recently.
These numbers make it evident that the ratio of diverse teachers found within schools is nowhere close to being proportionate to that of the students of multi-ethnic backgrounds. The troubling statistics on the number of African American and Latino students who are college ready, who graduate from four year colleges and who gain acceptance into the top colleges in the city and country, need to be turned around. Increasing the rates of diversity at our city's institutions of higher learning goes a long way towards accomplishing these goals.
I would like to welcome anyone who would like to attend this hearing on Friday, September 21st, to support or testify about your thoughts or experiences regarding this topic. The hearing will be at 10am at the 16th floor hearing room of 250 Broadway. We would like to have a large turnout to highlight the importance of this issue and to show our city's universities that it is one we feel strongly about.
Gracias y Pa'lante!
Check out:
Uptown 2011 Movers & Shakers: Ydanis Rodriguez – A Man of the People
We invite you to subscribe to the Uptown Love newsletter, like our Facebook page and follow us on Twitter, or e-mail us at [email protected].