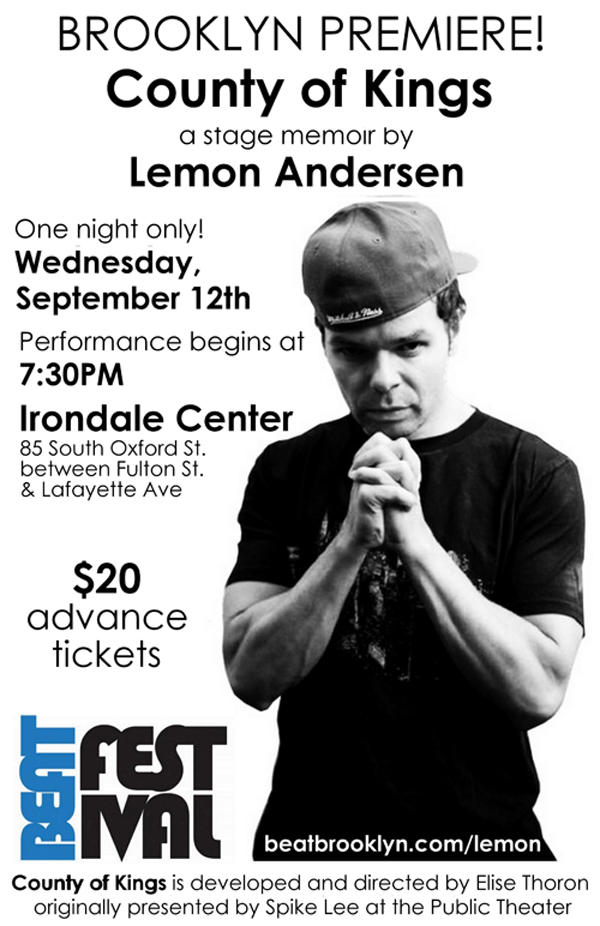 Lemon Andersen is something else. I have seen County of Kings now several times but the searing autobiographical memoir of this incredibly talented artist, performer and critically acclaimed poet never gets old. After the performance you are left there stuck and somewhat undone by the sheer force of Lemon Andersen's story, eloquence and charisma.
Ultimately, County of Kings is about Lemon's triumph over seemingly impossible odds. County of Kings will make you tap your feet, shake your head in disbelief and marvel at the dexterity of Lemon's prodigious wordplay. If you want to see what inner city life is like for the working poor in New York City than you could do no better than this feast for the senses. It is as Lemon might say, sancocho for the soul.
County of Kings will have its Brooklyn premiere at the BEAT festival on Wednesday, September 12th. Brooklyn will be in the building and you should be in there as well.
Click here to purchase tickets.
About Lemon
Lemon Andersen is a performance artist, writer and Tony Award-winning poet.
In 2012 the Sundance Institute commissioned the development of ToasT, his new play to be staged at the Public Theater in New York City. For a decade, Lemon's performances have rocked iconic venues including Harlem's Apollo Theater, San Francisco's Theatre On The Square, Charleston's Spoleto Festival, the Chicago Theatre, New York State's Spiegeltent, and Hollywood's Kodak and Montalban Theatres.
Spike Lee produced Lemon's coming-of-age autobiographical memoir County of Kings at the Public Theater. Lemon's performance received an acclaimed review from Ben Brantley of The New York Times. Since its 2009 debut, County of Kings has been staged in the United States from coast-to-coast, in Europe and South Africa. Lemon published the play's script and was awarded the Grand Prize at the 2010 New York Book Festival.
Lemon won a Tony Award in 2003 for Def Poetry Jam, produced by Russell Simmons on Broadway and broadcast on HBO for six seasons. He earned his classically trained chops at the Public Theater's Shakespeare Lab and his work has received support from the Ford Foundation. As a guest instructor at the esteemed Stella Adler Studio (2011-2012) Lemon developed the first spoken-word intensive to be offered at an actors' conservatory. He has performed and led workshops at a number of college campuses, from the University of Wisconsin to Syracuse to UC Berkeley to Harvard.
In 2011 the TED organization invited Lemon to perform at their inaugural TEDYouth event, live streamed to 16 countries. Last year Lemon was also selected to join the Sundance Institute's Playwrights Retreat. In the spring of 2012 Lemon participated in Australia's Sydney Writers Festival and New Zealand's Auckland Writers & Readers Festival.
On the big screen, Lemon appeared opposite Denzel Washington in Spike Lee's Inside Man and in The Soloist, with Robert Downey Jr. and Jamie Foxx. LEMON, a documentary film portrait of his life and career path (Executive Producers, Russell Simmons and Stan Lathan) is currently screening at domestic and international film festivals and is slated for broadcast on PBS this fall. Lemon's engaged YouTube audience totals upwards of one million video views.
A native New Yorker, Lemon proudly represents Brooklyn.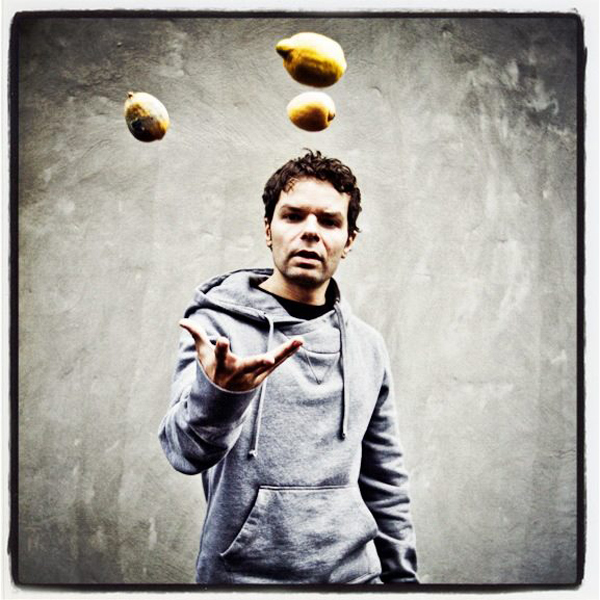 We invite you to subscribe to the Uptown Love newsletter, like our Facebook page and follow us on Twitter, or e-mail us at [email protected].