By Art By Dj Boy (@ArtByDjBoy)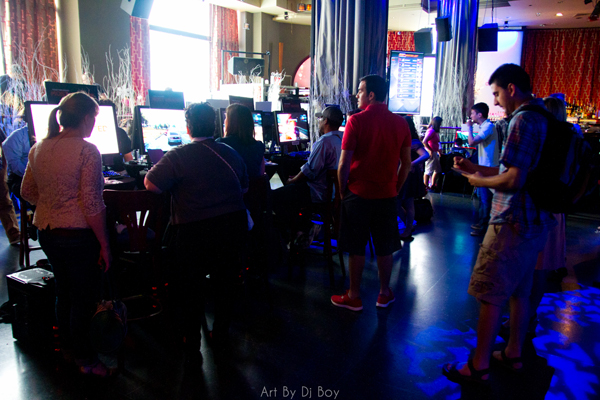 On Wednesday 27th, Electronic Arts held a really fun private event for media outlets to come out and test drive some titles by EA, like Need For Speed Most Wanted, the Criterion re-imagining, Medal of Honor Warfighter, Fifa 13 and others. There were a whole array of great games to check out but I got to actually play a few. Once I stepped in, fellow Uptown Collective contributor, and gamer Productive Ray and I were greeted by the welcome committee, and the upbeat and super friendly Susana Nunez who represented EA. We were given small goodies like Most Wanted Keychains and iPhone and iPad covers.
Once inside the amazing looking restaurant, Crimson on 21st street and Broadway, NYC, we saw 10 LCD televisions back to back with two games, Need for Speed Most Wanted and Metal of Honor. Luckily we were one of the first people to get there, so we got first dibs on many of the games.
We immediately were taken to the Most Wanted stations, and after playing an awesome single player mode race, we got into some online races with two other fellas. The game itself ran very smoothly from what I saw, no lags and the open world environment made it a lot of fun to get to certain locations ie meetups to start races with other competitors. Once the competitions got underway, and you begin to smash into other cars, you immediately see the Criterion influence. The crashes, although not as insane as burnout, equally if not more satisfying, especially when it's getting someone back for slamming you into a wall. The feel of the cars stay basically true to the Need For Speed Series and don't stray too far from the look. I feel like it was faster in acceleration after stopping, but I haven't honestly played a video game in so long that everything is pretty damn fast now. After a few races and competitions, there was one mission left, and I was on top of the leader boards. Unfortunately for some reason I scored less than the person sitting next to me and I lost the overall competition. That of course did not stop me. I played two more times at the event and eventually tied at first place and won a bottle of champagne! Also walked away with three t-shirts!

We had opportunities to test out Fifa 13 and Medal of Honor Warfighter. In Fifa 13 I noticed that the physics were really worked on, and very well. When you come in contact with another player, it is so realistic and different every time it happens you get a different animation. The gameplay is pretty much the same as the older versions so it was easy to jump right in. I scored one goal and it took long enough to do so, so we stopped playing. Right next to the Fifa 13 station was a Quesadilla maker, and they were frigging delicious. I only ate two but Ray stuffed his face, as we all should at these events. For some reason I did not.

Medal of Honor was an amazing looking game. We got to play one online competition with 2 other guys and we ended up winning, even though we thought we were getting our asses handed to us. The map looked like a war torn 3rd world country and had great locations for snipers and other great locations to dig in and hide. Sector Control Mode was the game, and we had a couple of different soldier types to choose from. Check out the trailer below to see the cool options. The one thing that really got me excited was the grenade that you throw, it was basically 3 or 4 smaller grenades that blew up in a much bigger radius than just one. So cool.

We got to see some amazing looking gameplay from the new Sim City coming out next year. The series is finally coming back after a 9 Year hiatus next year! The same concept of course is still there, but there is so much more added that it will basically be a whole new game. Each decision you make will not only affect your city, for example, it will also even affect other player's cities around you in online game play! If your city has really bad pollution, a nearby city will feel some of it and eventually you will have to fix things not only for the tiny people in your city, but for the world of Sim City. Building has so many cool physical effects and the night time look is so crazy that even lights from cars reflect off of houses and buildings. When building a fire station you will see the cover radius. When you build a coal mine you can eventually run out of coal and would have to think of a way to get more coal, or build a new way of getting power to your city. The funniest thing that I saw was that there are characters added now that you will have to look out for. There was an arsonist crazy man that set one building on fire, and eventually that building had to be demolished because it was abandoned. The realism and look of this game already has me in line waiting for this game to come out.

On the side of mobile games, there were a couple of really cool looking games for kids that I got to see. Happy Squirrels is a tree building game with cute little squirrels that roam around the tree a la Sims. It has really funny characters and mini games that will definitely have kids hooked for hours. The gameplay looked smooth and you don't need to buy anything in game unless you are very impatient and cannot wait for things to be built. You have many awesome types of rooms to build, and it's unlimited! There is a really funny surprise when you swipe all the way up, or down. I also got to check out Critter Escape, which was a nice swipe to move adventure game with puzzle like levels for everyone to enjoy, from new gamers to hardcore gamers. Zooniverse was the last game I got to check out, and it is really for the farmville fans out there. I was never into these games but for those who are, you should definitely check out the hilarious twist they have on the animals. Just think, what if we combined two animals? All of these games are on chillingo.com.
Other games I didn't get to play, but enjoyed looking at were Madden NFL 13, NHL 13, NCAA Football 13, Sim 3 Supernatural Expansion Pack, and SimCity Social for Facebook. I didn't get to check out these following games, but I think you should: Scrabble for Facebook, iOS Games – Puzzle Craft, Jelly Jumpers, and Tanglers.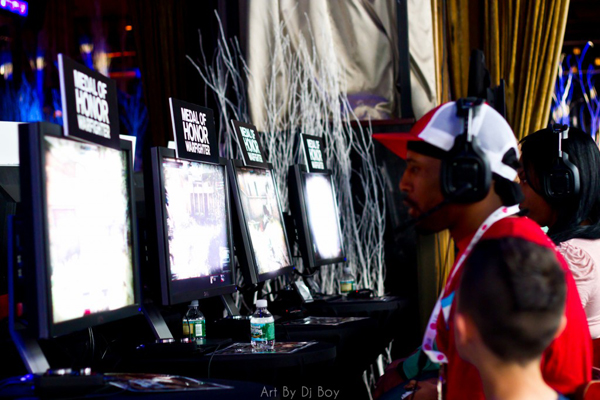 We invite you to like our Facebook page and follow us on Twitter, or e-mail us at [email protected]