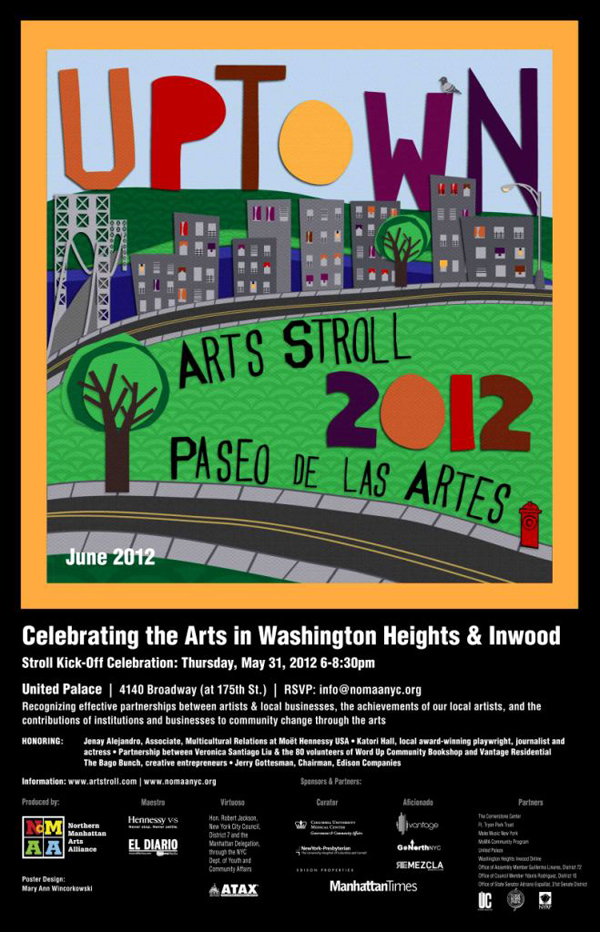 Open Studios
On Sunday 10 June, 1–6 p.m., artists throughout Northern Manhattan will open their studios to the community for an intimate glimpse into their creative process. Be sure to check out local businesses, events, and happenings along the way!
Sky Pape | 917.992.4001
91 Payson Ave. #1C (building entrance on Beak St.)
Abstract drawing
Dibujo abstracto
www.skypape.com
Dindga McCannon | 917.517.4576
800 Riverside Dr. #1B (at 158th St.)
Art quilts, mixed media
Colchas artísticas y medio mixto
www.art-alive.com/dindga
Mark Vinsun | 646.739.6901
1320 Riverside Dr. #3J (at 181st St.)
Painting
Pintura
www.leonidesarts.com
Check out the rest of the artists:  Open Studios — Uptown Arts Stroll.
BTW:
The 2012 Uptown Arts Stroll Calendar of Events
The 2011 Uptown Arts Stroll: A Retrospective
We invite you to like our Facebook page and follow us on Twitter, or e-mail us at [email protected].