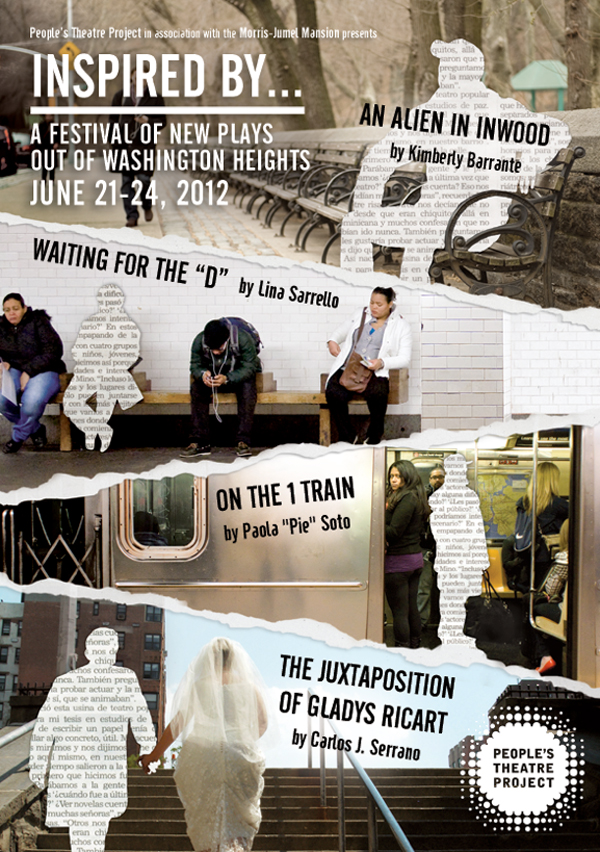 People's Theatre Project
in association with the Morris-Jumel Mansion presents
INSPIRED BY…
A festival of new plays out of Washington Heights
June 21-24
the Morris-Jumel Mansion
65 Jumel Terrace
Part of the Uptown Arts Stroll, this festival of staged readings is a celebration of People's Theatre Project's 2011-2012 Resident Playwrights Unit. The writers have worked together over the past 8 months to develop new works inspired by the community of Washington Heights. This festival is an opportunity for the playwrights to share their works-in-progress with the community who may see aspects of their own reality reflected, and see creative, imaginative ways of understanding the meaning of their struggles. Admission to the festival is pay-what-you-can and each performance will be followed by a dialogue with the playwright, director and actors.
An Alien in Inwood 
by Kimberly Barrante
 directed by Mino Lora
Thursday, June 21st at 7:30pm
(opening reception from 6:30-7:30pm)
Waiting for the "D" 
by Lina Sarrello
Friday, June 22nd at 7:30pm
ON THE 1 TRAIN
 by Paola "Pie" Soto 
directed by Maria Aponte
Saturday, June 23rd at 7:30pm
The Juxtaposition of Gladys Ricart 
by Carlos J. Serrano
 directed by Lee Sunday Evans
Sunday, June 24th at 2pm
(Followed by a closing Garden Party)
For more: http://www.peoplestheatreproject.org/
Check out:
Uptown 2011 Movers & Shakers: Mino Lora and Bob Braswell
People's Theatre Project Wins Prestigous Union Sqaure Award
We invite you to like our Facebook page and follow us on Twitter, or e-mail us at UptownCollective@gmail.com.
[subscribe2]