BY Led Black (@Led_Black)
Photography by Art By Dj Boy (@ArtByDjBoy)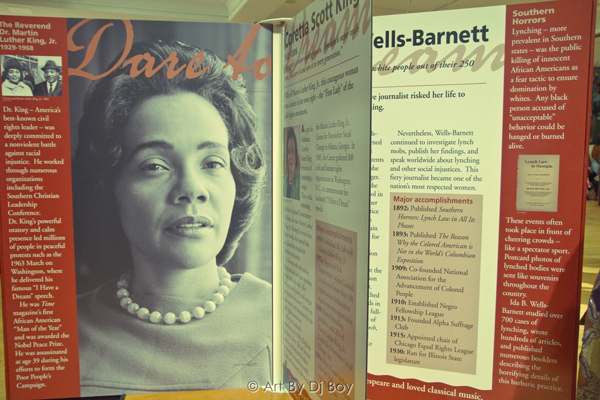 When you think of the struggle for civil rights in America, great men such as MLK, Malcolm X, Booker T. Washington, Marcus Garvey, Frederick Douglas, and W.E.B DuBois, immediately and rightfully, come to mind.
What is left out of the equation, in terms of the history of the movement, is the crucial role of African-American women in helping to create, sustain, nurture and be actual catalysts for deep and profound change in America. While it was the men that you saw giving the speeches, it was the women who were the backbone of the fight for equality for all Americans.
Freedom's Sisters is an interactive, insightful and innovative exhibit that brings that history to life by highlighting 20 African-American women who played a major part in helping to push America forward and closer to the ideals the founding fathers preached about. It is, I feel, quite fitting, that the beloved Malcolm X and Betty Shabazz Center (3940 Broadway) in Washington Heights, NYC is the final stop of this traveling exhibition. After all, Betty Shabazz is one of the twenty women memorialized in the exhibit.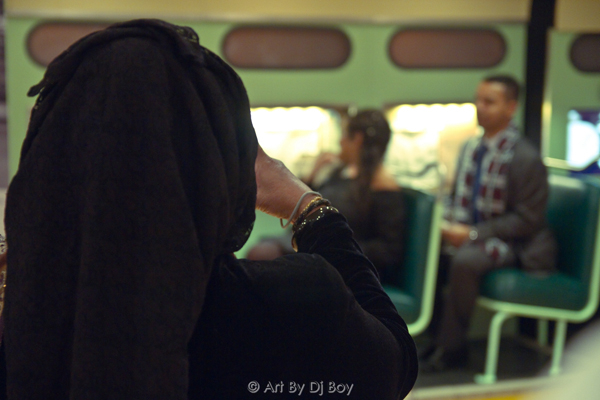 Such African-American female giants as Sojourner Truth, Harriet Tubman, Coretta Scott King, Kathleen Cleaver and Ida B. Wells, among others, are honored in this stirring and though-provoking tour de force. It is moving beyond words to see a replica of the inside of the bus that Rosa Parks refused to sit in the back of in 1955. As you peer into the front of the bus, you can see Rosa sitting there dignified and defiant. That very act helped to spark the Montgomery Bus Boycott.
The life size statue of a police dog, complete with chill-inducing growls, used on peaceful protestors throughout the segregated south, viscerally brings home the danger that these women on the frontlines purposely put themselves in to create a better country for all Americans.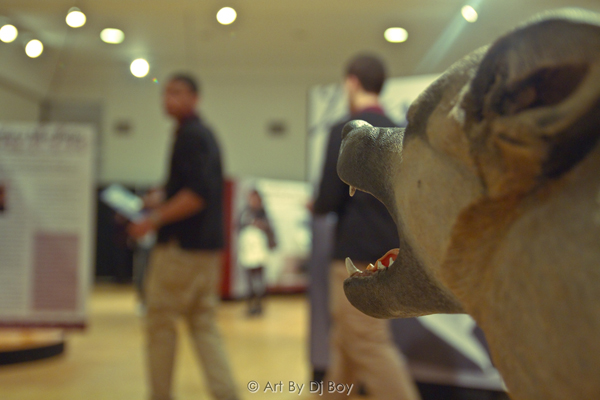 This is history that you can feel in your bones. As the father of 3 young girls, it is ultimately humbling to contemplate that the liberties, safety and freedoms my daughters currently enjoy are the direct results of that glorious struggle. To quote, Fannie Lou Hamer, one of the Freedom Sisters, these women were "sick and tired of being sick and tired" and decided to change the world. The rest is history or should I say herstory!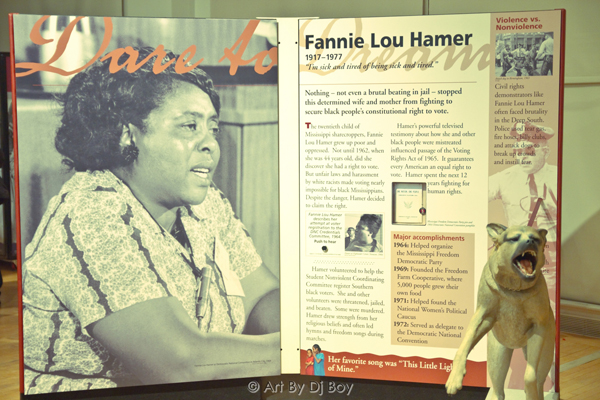 Freedom's Sisters was created by the Cincinnati Museum Center (www.cincymuseum.org) and organized for travel by the Smithsonian Institution Traveling Exhibition Service (www.sites.si.edu) and will be at the Shabazz Cener (3940 Broadway) until April 22nd.
 The national tour is made possible by the Ford Motor Company Fund.
For more:
Also, check out: Uptown Gem – The Malcolm X & Dr. Betty Shabazz Center
We invite you to like our Facebook page and follow us on Twitter, or e-mail us at [email protected].