Words by Led Black (@Led_Black)
Photography by Jay Franco (@_jayfranco)
Video by Amanda Hiciano (AIKI5IFTY5IVE)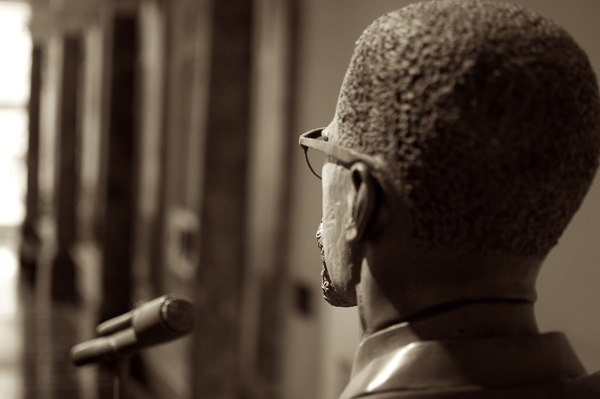 Malcolm X changed my life. The Autobiography of Malcolm X by Alex Haley literally put the Black in Led Black. The book which has sold untold millions of copies and influenced everyone from Huey P. Newton, to Spike Lee, to Public Enemy, among many others, seemed to materialize out of nowhere at a crucial point in my development as a person and as a thinker. It was during my years in the Bronx High School of Science that the book found its way into my life and thank god that it did.
Coming from P.S. 143 in Washington Heights, I didn't know I was poor until I attended Bronx Science. Being that I was the only one from my junior high that year to make it to the prestigious public high school, I virtually had no choice but to make the trek everyday from the hood to Bronx Science. All of sudden I was attending school with kids whose backgrounds and socioeconomic statuses were vastly different from mine. Culture shock was an understatement, which resulted in some existential angst and serious soul searching on my part. I felt adrift and ensnared in a downward spiral of resentment and alienation.
And then it happened. A fellow Bronx Science student, Harlemite Ben Talton, gave me his dog-eared copy of the Autobiography. I read it transfixed. I could not put it down. Malcolm's singular fixation with history spurred my own and gave me the impetus to read, learn and grow with reckless abandon. The lessons I learned from studying the trajectory of his life gave me the wherewithal to decide, right then and there, that I and I alone, would determine my destiny. That excellence was a choice that was mine to make, that I could not and would not let my circumstances define or defeat me. After all these years, the spark that Malcolm ignited still continues to burn.
And that is where this story comes full circle. While it took me traveling to the Bronx to discover Malcolm, it just so happens that the legacy of Malcolm is very much alive and well in the neighborhood that I grew up in, the neighborhood that was once an integral part of the life and times of the late, great Malcolm X. Malcolm was slain in the very building that now leads the charge to keep his memory and life's work relevant to millions of folks worldwide but also in the community that it is grounded in.
The Malcolm X & Dr. Betty Shabazz Memorial and Educational is a living, breathing testament to the vision, depth and scope of man whose intelligence, determination and drive made him a giant among men. His outsized and larger than life presence can still be felt in the former Audubon Ballroom. When you enter this sacred space you can almost hear Malcolm telling it like it is, speaking truth to power resolutely and unapologetically, with the audience enraptured responding back, "make it plain Malcolm, make it plain." Malcolm X lives!
For more info: http://theshabazzcenter.net/
The Malcolm X & Dr. Betty Shabazz Center – 3940 Broadway
We invite you to subscribe to the Uptown Love newsletter, like our Facebook page and follow us on Twitter, or e-mail us at [email protected].