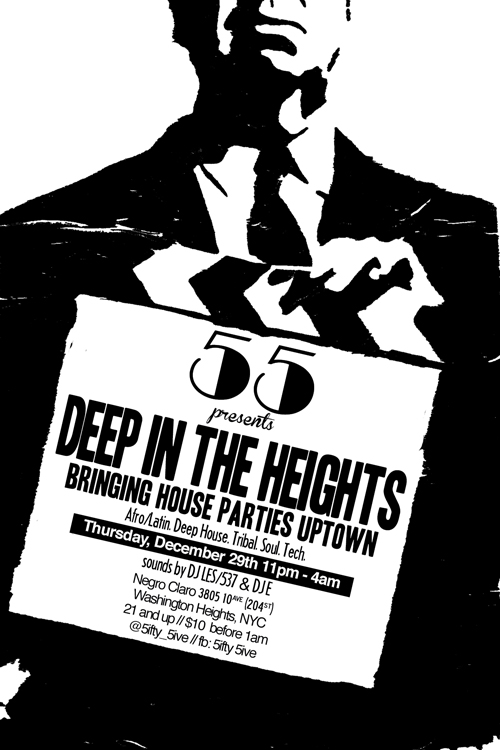 House music comes to Washington Heights. Originally a popular house party at apartment 55 for those in the know, Deep In the Heights is now making its way to the sleek and sexy Negroclaro Lounge (3805 10th Ave). Kicking off tonight, 55's dynamic DJ's will be spinning a witches brew of the best of Afro-Latin funk, deep house, tech and more. The party will have an underground, soulful feel, and will feature an art gallery as well as a host of live entertainment such as percussionists, dancers, and live painting by local visual artists, making these monthly events some of the most unique parties in northern Manhattan.
House parties are a staple in Washington Heights and Inwood. Friends and family meet at an apartment and dance the night away to their favorite tunes. Maury Matos and friends began this tradition in their own Washington Heights apartment, numbered 55, over two years ago and their house parties have quickly grown in popularity since its inception. Attempting to spread the love of house music on a grander scale, the 55 group will move their party to Negroclaro Lounge where their goal is to maintain the intimate and underground feel of a traditional house party with great music and dancers.
This is an open invitation to a raw celebration of life.
Join 55, the heart of good music, deep house, dance circles, and fun as we bring our house party out to play for the first time ever.
DEEP IN THE HEIGHTS: Bringing House Parties Uptown.
Afro/Latin, Deep House, Tribal, Soul & Tech
Sounds provided by DJ LES/537 & DJ E (d-_-b).
21+ / No Dress Code. 1 rule only: have FUN and DANCE.
**These events will take place monthly on the 3rd Thursday of each month.*
RSVP: https://www.facebook.com/events/302376183118428/
What is 55?
The 55 Manifesto
55 is no ordinary number.
It is a noun, a verb, an adjective.
It is a movement, an experience,
A breath of fresh air.
It is music, freedom, and love.
It is a hug and kiss on the cheek, a family.
A cultural mecca for self-expression.
A forum for inspiration and ideas.
It is a home in Washington Heights,
To creative, social, hungry animals who know how to fucking party.
It is the heart of good music, deep house, dance circles, and fun.
The synonym of euphoria.
It is energy so profound you can feel it in your soul.
It is an open invitation to a raw celebration of life.
Welcome to 55.
For more info: http://5ifty5.tumblr.com/
Twitter: @5ifty_5ive
We invite you to like our Facebook page and follow us on Twitter, or e-mail us at [email protected].