BY Mike Fitelson  (@MikeFitelson)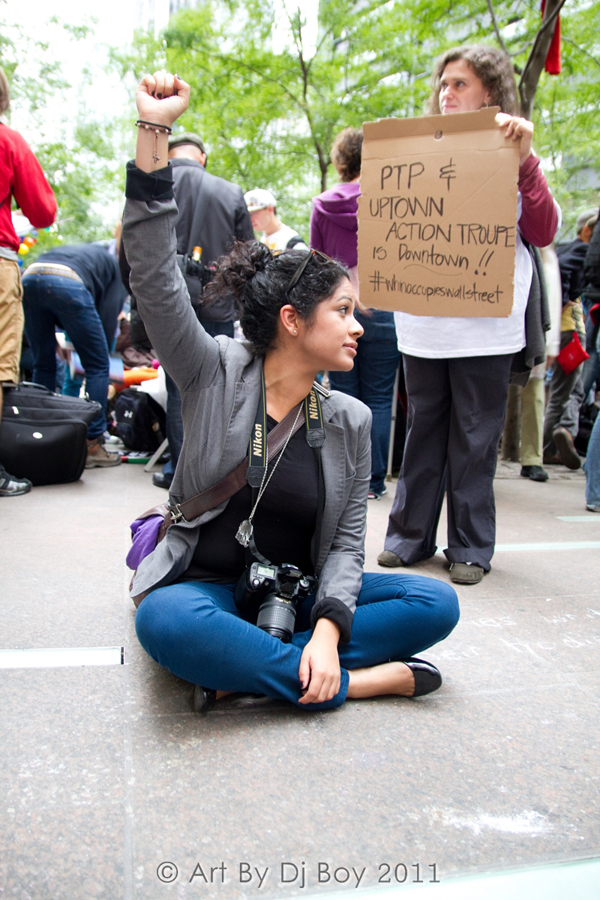 It would be easy to start this essay with the sassy beginning: "When she opened the door I had no idea the impact she would make on Northern Manhattan . . ." But a journalist can't take such poetic license.
The truth is Gloria Pazmiño made it abundantly clear from the moment she set foot in the room that she was ready, willing and, able to take on uptown. All we had to do was let her.
Hers was one of about 50 responses the Manhattan Times received from a help wanted post for a bilingual newspaper reporter in October 2010. Hopeful applicants pitched their talents from as far away as South America and India. But Gloria's resume stood out. Sometimes you can feel the enthusiasm and dedication glowing on your computer screen.
After nailing her phone interview she met jointly with a publisher and me – not an easy twosome to tango with. She challenged our irreverent cynicism with poise, humor, and intelligence. Finally she had a sit down with Luis Miranda, Jr. himself – where bullshit goes to weep.
Gloria sailed through. Clearly she was eager to explore this part of the city that was new to her, exhilarated to be covering a neighborhood that was just discovering itself born anew at the end of a long, painful rite of passage. She wanted to carve out a place to call her own in it.
Only a few days later she had her first assignment: find a steaming hot cup of avena and write about it. She was given no other direction than that. Sniff out the story. Make it happen.
Gloria found it at Nelly's Bakery at W. 160th Street and Amsterdam Avenue and wrote what would be the first in a series of personal touch pieces that endeared her to our readers, writing it as if her grandmother was looking over her shoulder.
That is one hallmark of writing for a community newspaper. Another is writing a lot on a lot of different subjects. Looking back through the archives, during her first month Gloria filed reports on the booming rat population, a program to help small entrepreneurs, a children's puppet show at J. Hood Wright Park Recreation Center, and the first of many, many, many Community Board 12 round ups.
She proved that she could cover any story about any one in any corner of our community.
But it was her personal insights that rolled up under the banner of "Living El Alto" that she will be remembered for most. With a nod to Carrie Bradshaw, we cooked up the column as a diary chronicling her explorations of Northern Manhattan.
Subject matter included old school cold remedies, breakfast at 4 a.m., Slurpees, the guy who pastes up nightclub posters, Occupy Wall Street (proudly published Oct. 5, less than three weeks after the protests quietly began), and a series on what it means to be Latino – and specifically Latina – in Washington Heights, in America. My personal favorite: "Holler at me, nicely."
Taken together, her "Living El Alto" pieces paint a small, unfinished portrait of who we are.
Time and again I heard the same feedback from the people she had covered: Gloria really listens and she really cares. These are attributes that aren't taught in J-school, but probably make the best reporters, the ones who best connect with their audience.
When I introduced Gloria at a Community Board 12 general meeting, I told the crowd that I hoped she would someday be standing in my place, in my role, introducing the paper's next new hire. That wasn't meant to be.
After a year of seasoning at the Manhattan Times she decided to push her journalistic comfort zone and delve into broadcast with NY1.
Gloria wants to be a reporter. Even if it means sacrificing the personal connection she forged with readers uptown over cups of coffee and glasses of martinis for the stark anonymity of gathering news with a 30-pound video camera and nary a byline. There will be days – cold, snowy days – ahead when it will be hard for her to remember why she wanted to be a reporter.
In need of a kicker to close, I leave you with yet another challenge: try to do for the rest of the city what you did for us uptown. Listen. Care. Make it happen.
Check out:
Uptown 2011 Movers & Shakers: Michael Diaz – The Strategist
Uptown 2011 Movers & Shakers: Ydanis Rodriguez – A Man of the People
Uptown 2011 Movers & Shakers: Mino Lora and Bob Braswell – Bringing Theater to The Heights
Uptown 2011 Movers & Shakers: Jose Morales & A Year At The Apartment
We invite you to like our Facebook page and follow us on Twitter, or e-mail us at [email protected].