BY Led Black (@Led_Black)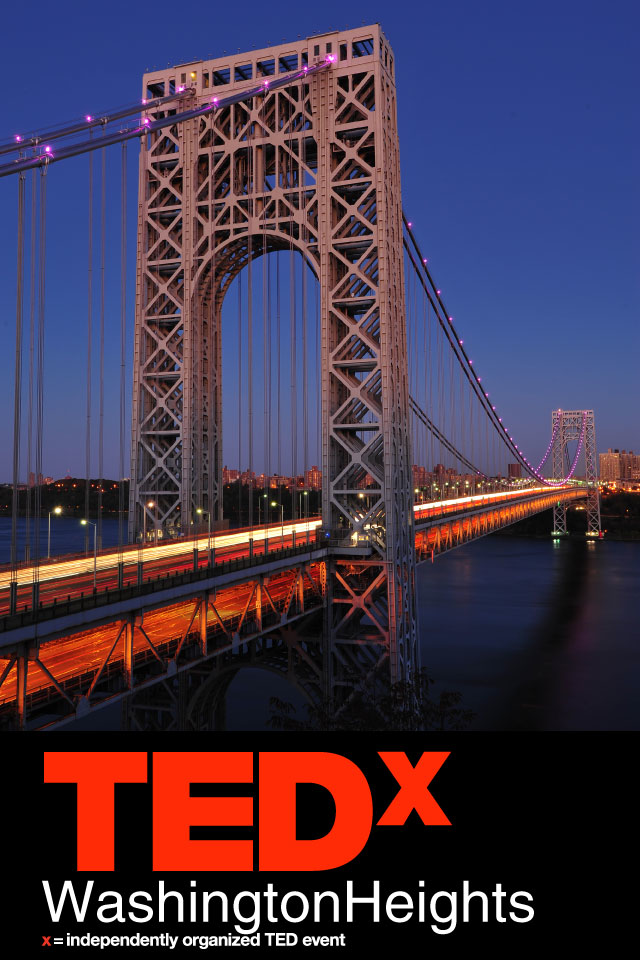 Things are a changing Uptown. Businesses, service providers and institutions are springing up that one would never think you would find here. Though the vestiges of the past remind us that there is progress to be made, a certain unrestrained optimism in the future is downright palpable in our neck of the woods. For the most part, we no longer have to trek elsewhere to find a great place to eat, drink or to be entertained. Arts, culture and fine dining are at our fingertips. Uptowners are no longer waiting for others to bring change to us; we are doing the heavy lifting ourselves. That can-do spirit was evident at the TEDx Washington Heights conference that took place at the Hispanic Society of America on Monday, October 24th.
First of all, the very idea of TED and Washington Heights might seem incongruous to some. Not to David Chitel, the Founder and Chairman of NGLC, who organized the event and saw Washington Heights as the ideal place to have a TEDx talk that dealt with Latino issues. I have to say that choosing the Hispanic Society of America as the venue for this next level conference was an inspired choice. The Hispanic Society of America was founded in 1904 and houses the most impressive collection of Spanish art outside of Spain. The actual function took place in the breathtaking Sorolla Gallery, which features Joaquín Sorolla y Bastida's epic Vision of Spain, comprised of 14 monumental oil paintings depicting the different regions of Spain and the ways, mores and customs of its people.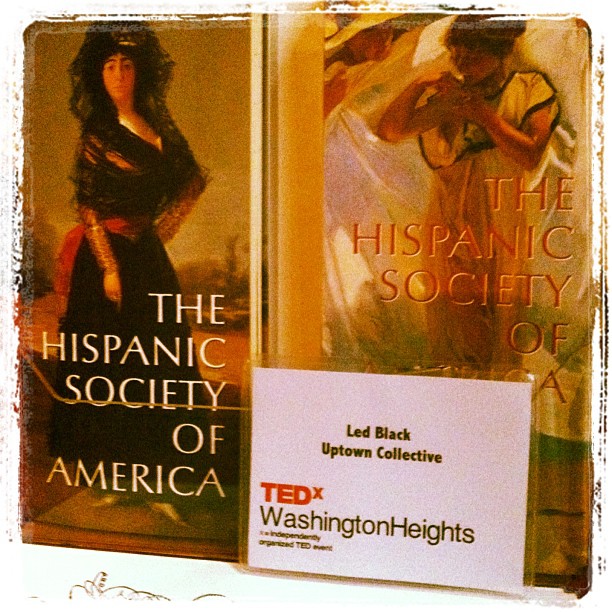 I came away from TEDx Washington Heights believing that I could change the world. I have been saying for a long time that the future is ours to shape and that notion felt very tangible at TEDx Washington Heights. TED is all about big ideas worth spreading. The inspiring, innovative and informative line up of speakers embodied that ethos.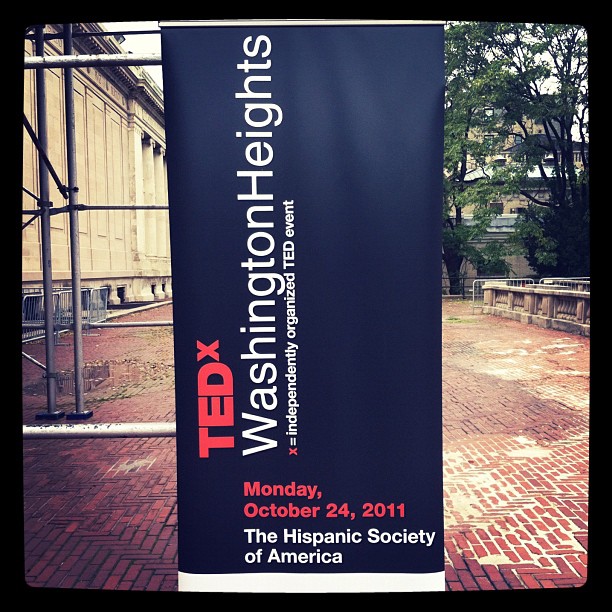 The first to speak was Flavio Morales, who is now the SVP of Programming and Production for the cable channel Mun2. Even though he has reached such lofty heights, he was once just a guy from East LA that told the story of his neighborhood via a public access show that developed a cult following. Flavio talked about the importance of today's Latino leaders in the media and entertainment fields reaching back and nurturing the next generation of Latino movers and shakers. I felt an instant kinship with Flavio as his public access show of the past, is my hyper-local site of the present.
The next in line was the Executive Director and Co-Founder of Voto Latino, Maria Teresa Kumar. I have to say that her speech moved me beyond words. Maria Teresa's presentation was a powerful evocation on harnessing the voting power of Latinos to not just empower Latinos but to help America retain its preeminence in an ever more competitive world. The most powerful moment of the entire event for me was when Maria Teresa said, "You have a lot of naysayers that say America is on decline. I actually say that the Latino community is the silver lining of where we are going in our future because we're young, we're workaholics, we believe in America when everybody else doesn't. Despite our economic difficulties and educational needs, we profoundly believe in what America is and the possibility and that immigrant belief. And it is because of that, that I think that America's best days actually lie ahead." Amen, sister amen!
The next speaker was Monica Martinez, who is on the President's Advisory Commission on Educational Excellence for Hispanics. Her talk was an eye-opening experience to say the least. Did you know only 13% of all Latinos in the United States have a bachelor's degree? Only 4% have a graduate or a professional degree and only 2.9% have a PHD. Those numbers are abysmal and should be a catalyst for us as Latinos to make sure we correct that, post haste.
The last speaker of the night was Alisa Valdes Rodriguez, the best selling author of The Dirty Girls Social Club. In all honesty, I have to say that I didn't agree in the slightest with the premise of her talk, which was that there is no such thing as a Hispanic or a Latino. According to Ms. Rodriguez, the very notion of Latino identity is an artificial construct, conjured up by the Nixon administration to create false divisions between the indigenous people in North America and South America as well as those "Latinos" that are part of the African Diaspora. With that said, I still found Alisa's talk to have value as it made me think deeply about what it means to be Latino in America right now. I am one of 50.5 million people. There is power in those numbers. We just need to awaken that long dormant giant. For me, TEDx Washington Heights was a positive step in that direction. Pa'lante – siempre pa'lante.
TEDx Washington Heights ended with a viewing of an earlier TED Talks which featured Isabel Allende speaking on passion and storytelling. If you have not seen it, make sure you do, it is one of my favorite TED talks.
BTW, there is also a TEDx Washington Heights app for the iPhone. Click here to download it.
For more info: http://tedxwashingtonheights.com/
Lastly, I was also one of six lucky winners to win this special, limited edition KAWS Hennessey bottle.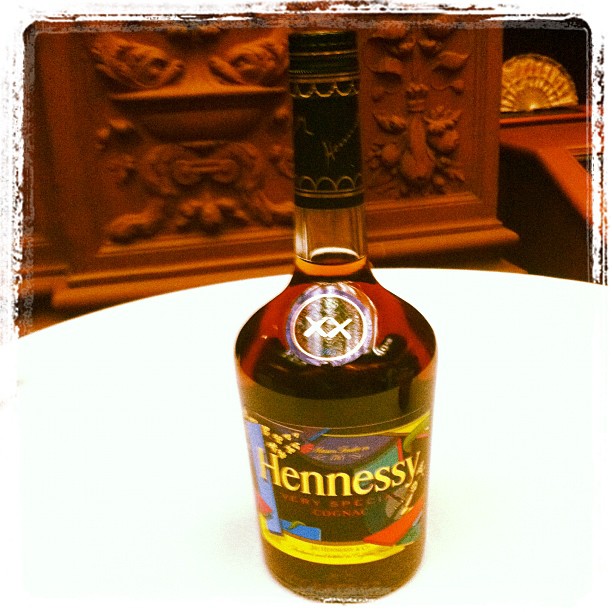 We invite you to like our Facebook page and follow us on Twitter, or e-mail us at UptownCollective@gmail.com.