An Uptown Portrait: Natividad ("Dora the Explorer")

An Uptown Portrait is a bi-monthly photo series by journalist Amaris Castillo (@AmarisCastillo). The portraits capture those who reside in upper Manhattan and their candid quips on their side of town.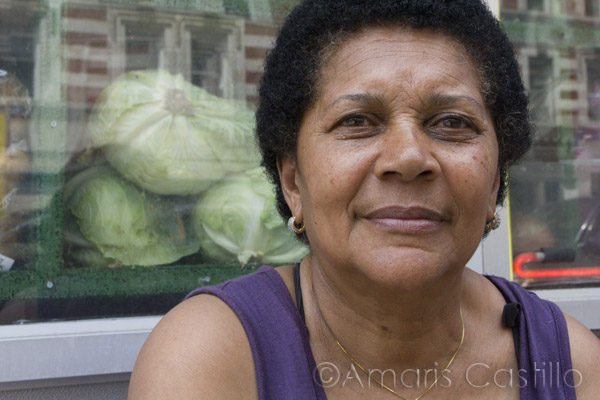 By the corner of 184th St. and St. Nicholas Ave, Natividad Heredia looks comfortable on a black milk crate. It may not be the most ideal seating arrangement, but the longtime Washington Heights resident is in her element. Natividad has been here a while, and it shows. As she speaks, the retired factory worker gets interrupted several times by those passing by. In conversation, Natividad's eyes expand, and her Dominican voice is loud with its rhythmic swing. "We moved here and we stayed," the 72-year-old says of her family's move to Washington Heights four decades ago. After a brief stint in Brooklyn, Natividad remembers crying with her brothers for Uptown Manhattan. Natividad says everyone loves her – and she even has a nickname. "Dora the Explorer," she says in Spanish, mischief playing in her eyes. "But not the doll."
Check out more of Amaris Castillo's work: http://vimeo.com/AmarisCastillo
Also Check out:
We invite you to subscribe to the weekly Uptown Love newsletter, like our Facebook page and follow us on Twitter & Instagram or e-mail us at [email protected].