BY Led Black (@Led_Black)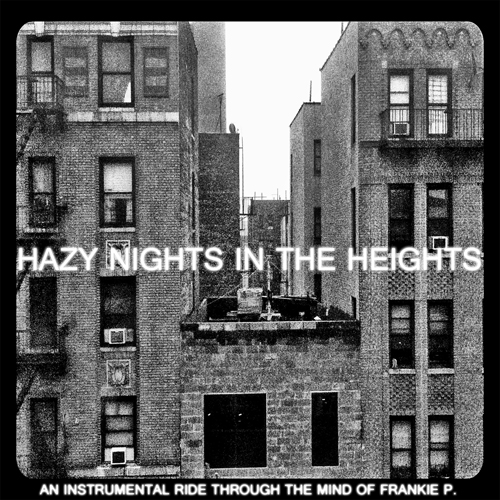 BTW, the new album dropping today is absolutely incredible. What was the thought process going into the project?
Thank you sir! I really just wanted to create something that people didn't expect. Most of the time when producers create "beat tapes" its just a bunch of instrumentals thrown together with no direction. I wanted mine to take you on a ride. If you close your eyes, the music should paint a picture and strike some kind of emotion. As far as the thought process – I just went into the studio with a free mind and no kind of expectations or rules. In a way, I was a bit frustrated as well. As a producer, you have to wait for an artist to build your name and brand. I have been doing this for over 10 years now and feel that I don't really need an artist to create my own art. The process of creating HAZY NIGHTS IN THE HEIGHTS was great, stress free, and therapeutic in many ways…
It is really kind of a departure from some of your other work, what influenced you to create something so radically different?
I hate rules, boxes, titles, expectations, uniforms, all that shit! lol – Just the need to stand out and do something different influenced this project.
Besides that, I love soul music. Everything from La Lupe to The Doors, Marvin Gaye, Ralfi Pagan, and many more… Their music influenced me to create something similar with my twist. I also wanted to create something timeless (instead of following trends and whats hot now). That's why I brought in a few musicians to vibe out with. I was also just influenced by life in general. Looking out my window to Broadway, walking down St. Nick at 4 in the morning tipsy, seeing the beautiful women leaving Mamajuana… regular every day life inspired this…
Besides Audubon, who are some of the other artists you are currently working with?
Shout out to Audy! He has 2 features on Hazy Nights. You can download his mixtape for free at www.audubonproject.com. The response we have gotten back from the project is amazing. There are a few big things in the works with him and we are BACK IN THE STUDIO!!!!
Right now I am working with a lot of artists but mainly just shopping beats to the major labels and licensing companies. I have learned over the years its best to talk about a record after it comes out. The music industry is a big mirage to be honest. I work directly more with songwriters and musicians… once the track is completely done, it goes to the artist so they can re do it. I am also working on some music for tv and movies. Just keep your ears open… I AM GRINDIN!
What's next for Frankie P?
Who knows! lol… I pretty much consider myself a free spirit when it comes to music. Whatever inspires me is where am at creatively. I am working with a few songwriters on a major label r&b and pop records, doing some work with a really dope group from Harlem by the name of ASAP (ASAP Ferg, ASAP Rocky, etc…) They are big on the radio and Internet right now with a few tracks – Purple Swag, Get High, and Pesos. Am back in the studio with Audubon and were pushing the boundaries even more than Digging For Sunlight. I am also going to continue to put out more instrumental projects ( I am not sure what the next one will sound like but you can expect something completely different than Hazy Nights in the Heights).
If you could work with any artist, who would it be and why?
Dope Question.
Alive – it would be a toss up between Kanye West & Lauryn Hill. I respect Kanye as an overall artist. He is bigger than his music. He is a brand… iconic shit in a very short time period. That's what I aim for when I am in my creative mode. Lauryn Hill because of the emotion she puts in her work. Nobody is fucking with that Miseducation still!
Dead – La Lupe… she was cooldd man… nuff said!
Special thanks to the homie Led Black for always showing love and support! Hazy Nights in The Heights drops today for free @ www.awakeinmydreams.com. Hit me up on twitter – www.twitter.com/frankiep325. WASH HEIGHTS! YA! 
Hazy Nights In The Heights – An Instrumental Ride Through The Mind Of Frankie P by HazyNightsInTheHeights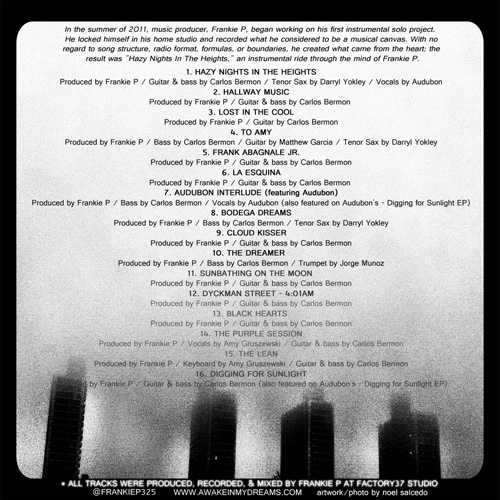 We invite you to subscribe to the Uptown Love newsletter, like our Facebook page and follow us on Twitter, or e-mail us at UptownCollective@gmail.com.