The Classical Theatre of Harlem presents Uptown Shakespeare in the Park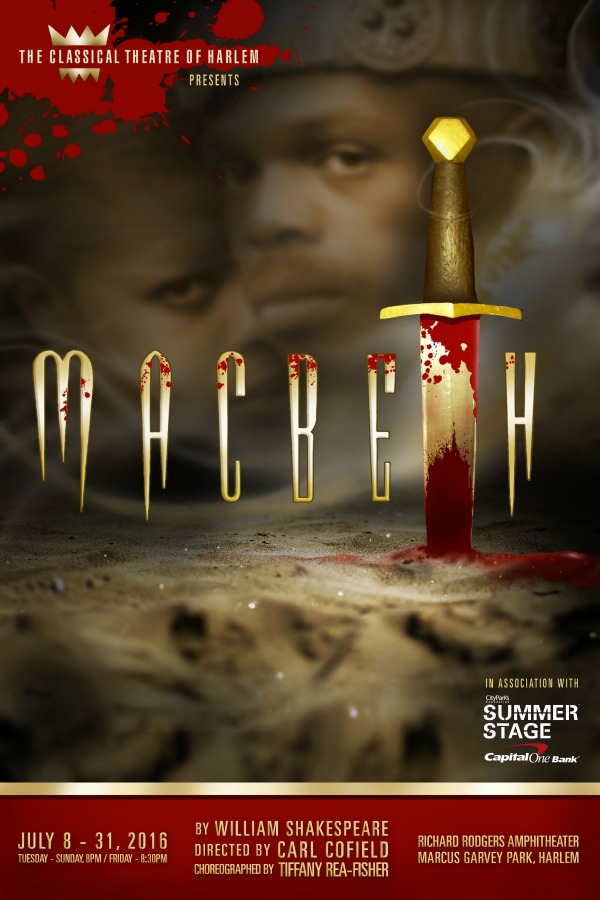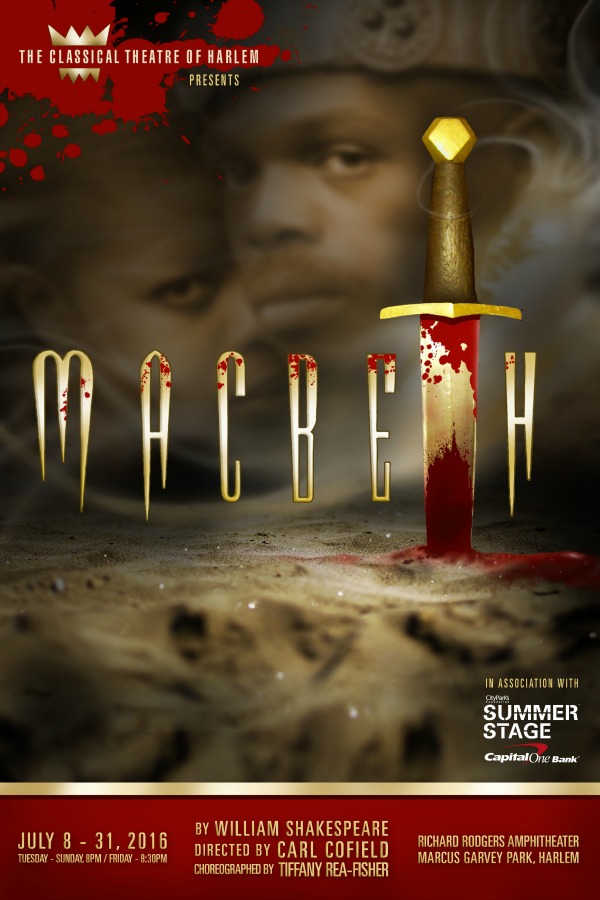 The Classical Theatre of Harlem presents Uptown Shakespeare in the Park
Macbeth
Directed by Carl Cofield, Choreographed by Tiffany Rea-Fisher featuring Ty Jones, Roslyn Ruff, and Elisa Monte Dance
Preview Performances Friday, July 8, 2016, at 8:30 p.m. & Saturday, July 9, 2016, at 8 p.m.
Opening Night Sunday, July 10, 2016, at 8 p.m.
Performances
July 12 – 31, 2016 Tuesday-Sunday, at 8 p.m (Fridays at 8:30 p.m.)
Richard Rodgers Amphitheater in Marcus Garvey Park, NYC
The Classical Theatre of Harlem (CTH) will present Macbeth as its annual free Uptown Shakespeare in the Park production. The free, family-friendly production of William Shakespeare's classic, directed by Carl Cofield, and featuring CTH Producing Artistic Director, Ty Jones as the titular antihero, will run from July 10 through 31 with preview performances July 8 and 9 at the Richard Rodgers Amphitheater in Marcus Garvey Park. The production, framed to reflect the diverse culture and interests of the CTH audience, will be informed by Ethiopia during the time of Haile Selassie (Ethiopia's regent from 1916 to 1930 and Emperor of Ethiopia from 1930 to 1974).
With this production, CTH enters into a unique collaboration with Elisa Monte Dance, whose artistic director, Tiffany Rea-Fisher, will serve as choreographer. During the run of the production, CTH will feature one pre-show performance by students of CTH's educational program, Project Classics, in collaboration with The Dream Center. CTH's Uptown Shakespeare in the Park continues to be presented in association with City Parks Foundation's SummerStage festival.
This production will reunite Roslyn Ruff and Ty Jones as Macbeth and Lady Macbeth, who last performed the roles for CTH ten years ago. Also in the cast are Afia Abusham, Ryan Alvarado, Emannuel Brown, Brandon Carter, Jason Delane, Avon Haughton, Anthony Vaughn Merchant, Andrea Patterson, and Gil Polk. The ensemble will be joined by company members of Elisa Monte Dance. The creative team is rounded out by Shayshahn MacPherson (music direc- tion), Christopher and Justin Swader (scenic design), Rachel Dozier-Ezell (costume design), Alan C. Edwards (light-
ing design), John McKenna (sound design), Katherine Freer (projection design), Emannuel Brown (fight direction), Haylee Scott (stage management), and Rachael Harris (production management).
TICKETING INFORMATION & PERFORMANCE DETAILS
The Classical Theatre of Harlem's Uptown Shakespeare in the Park production of Macbeth
Performance Schedule: July 8-31, 2016, Tuesday-Sunday at 8pm. Previews: July 8 & 9, 2016; 8pm. Opening Night: July 10, 2016; 8pm. Price: FREE – no tickets required. The Richard Rodgers Amphitheater is located in Marcus Garvey Park (enter at 124th Street & 5th Avenue, walk south to the venue).
We invite you to subscribe to the weekly Uptown Love newsletter, like our Facebook page and follow us on Twitter & Instagram or e-mail us at UptownCollective@gmail.com.