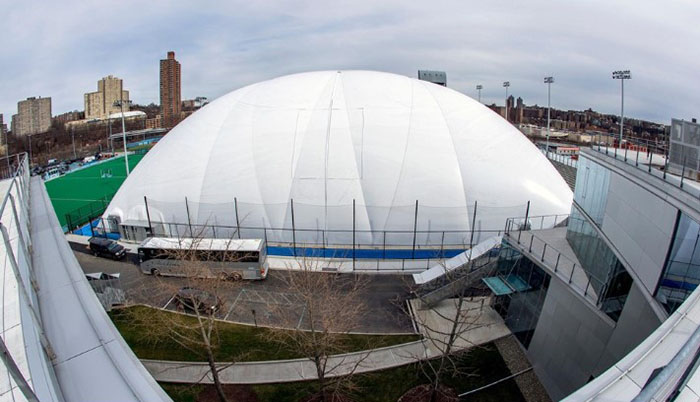 From laps to labs.
The indoor practice bubble at Columbia University's Baker Athletics Complex in Inwood, which features a world-class track, is being repurposed into a field hospital to care for COVID-19 patients.
NewYork-Presbyterian (NYP) has partnered with Columbia and former U.S. military personnel to develop the field hospital, which will be capable of treating up to 288 patients with COVID-19, according to a NYP spokesperson.
Typically used by Columbia University's varsity sports teams as a winter practice facility, the site is now under conversion for medical use and is expected to receive its first coronavirus patients within a few days.
The athletic complex is located on 218th Street near Broadway, adjacent to NYP's Allen Hospital. The temporary field hospital will be used to alleviate the demand on Allen and other NYP hospitals.
It will be largely staffed by former military personnel, including physicians, nurses, and other medical staffers, who will operate in conjunction with NYP front-line health care workers.
The site will not conduct testing or be accessible to walk-in COVID-19 patients.
Read more: Columbia sports facility turned into field hospital | Manhattan Times
We invite you to subscribe to the weekly Uptown Love newsletter, like our Facebook page and follow us on Twitter & Instagram or e-mail us at UptownCollective@gmail.com.