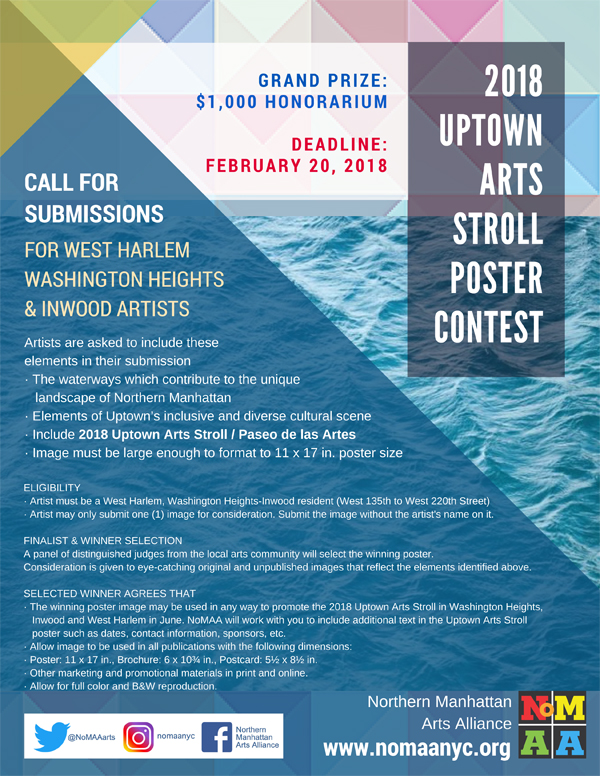 Listen up folks NoMAA has put out the call for submissions for the 2018 Uptown Arts Stroll Poster Contest. This is a big deal for artists that make Uptown their home. Not only will you get your work in fronts of untold numbers of your Uptown peers but you will also receive a $1000 honorarium. That's right so make sure you bring your A Game and start submitting. You have until February 20, 2018. Hit the jump for more info.
2018 UPTOWN ARTS STROLL POSTER CONTEST
CALL FOR SUBMISSIONS FOR
WEST HARLEM & WASHINGTON HEIGHTS-INWOOD ARTISTS
ARTISTS ARE ASKED TO INCLUDE THESE ELEMENTS IN THEIR SUBMISSION
The waterways which contribute to the unique landscape of Northern Manhattan
Elements of Uptown's inclusive and diverse cultural arts scene
Include 2018Uptown Arts Stroll / Paseo de las Artes 
  Image must be large enough to format to 11 x 17 in. poster size
ELIGIBILITY
Artist must be a West Harlem, Washington Heights-Inwood resident (West 135thto West 220th Street)
Artist may only submit one (1) image for consideration. Submit the image without the artist's name on it.
FINALIST & WINNER SELECTION
 A panel of distinguished judges from the local arts community will select the winning poster.
 Consideration is given to eye-catching original and unpublished images that reflect the elements identified above.
SELECTED WINNER AGREES THAT
The winning poster image may be used in any way to promote the 2018 Uptown Arts Stroll in Washington Heights-Inwood and West Harlem in June. NoMAA will work with you to include additional text in the Uptown Arts Stroll poster such as dates, contact information, sponsors, etc.
Allow image to be used in all publications with the following dimensions:
Poster: 11 x 17 in., Brochure: 6 x 10¾ in., Postcard: 5½ x 8½ in.
Other marketing and promotional materials in print and online.
Allow for full color and B&W reproduction.
SUBMISSION REQUIREMENTS 
High-resolution JPG, 300 dpi, 3-4mb
Image must be large enough to format to 11 x 17 in. poster size
Submit the image without the artist's name on it.
Artist's brief bio or artist statement (one paragraph)
Media (Type of Image- Painting, collage, etc.)
Artist's full name (first and last)
Address
Phone number
Artist website, if any
Social media links
 Submit by Tuesday, February 20, 2018 to http://ow.ly/ztfu30gV4Co  
GRAND PRIZE WINNER RECEIVES:
$1,000 honorarium 
Exclusive graphic representation throughout the 2018 Uptown Arts Stroll
We invite you to subscribe to the weekly Uptown Love newsletter, like our Facebook page and follow us on Twitter & Instagram or e-mail us at [email protected].