Story by Gregg McQueen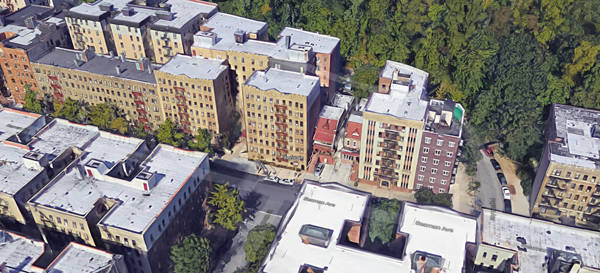 As the community focuses attention on the proposed redevelopment of the Inwood Library, another housing project could be on the horizon for the neighborhood.
The owner of 112 and 114 Seaman Avenue has filed an application with the city to redevelop the site into an 11-story residential building that includes affordable housing, Manhattan Times has learned.
A pair of brick, two-story buildings situated near 204th Street and Payson Avenue, 112 and 114 Seaman are owned by 112 Seaman Avenue LLC, run by Mike Saab, the longtime owner of C-Town Supermarket at 4918 Broadway.
Both buildings have been vacant since 2015, when leases for the tenants, which included a daycare center, expired.
According to the application filed with the Department of City Planning (DCP), the owner is seeking to create an 11-story building consisting of 40 apartments and a rooftop recreation space.
Based on the city's Mandatory Inclusionary Housing (MIH) program, the proposed building would set aside "affordable" apartments ― either 10 units at 60 percent of the area median income (AMI), which is approximately $46,000 per year for a family of three, or 12 units at 80 percent of AMI, approximately $62,000 a year for a family of three.
The application requests a rezoning for the property, as well as surrounding buildings 110 Seaman, 116 Seaman and 175 Payson Avenue.
Read more: Redevelopment proposed for Seaman Avenue site | Manhattan Times
Related:
City backs contextual rezoning for Inwood | Manhattan Times
Details Emerge—and Doubts Remain—About Potential Inwood Rezoning | City Limits
We invite you to subscribe to the weekly Uptown Love newsletter, like our Facebook page and follow us on Twitter & Instagram or e-mail us at [email protected].